Diwali has been my favorite festival ever since I can remember! The Diwali lights, lamps and diyas are something that makes every child go wide-eyed in awe. Have you ever made or thought of making DIY diyas or Diwali lights at home? It's a cakewalk, really. Why not team up with your little one to turn your home into a craft corner. This will not only make your Diwali a little brighter but will also give you some mother/daughter and mother/son bonding time. 

Here are some exquisite Diwali lights, lamps, and diya ideas:
1. Balloon lamps to light the outdoor
What do you need?
Big balloons

Scissors

Glue

Sharpie

Cotton yarn

1/2 cup of Cornstarch

Petroleum jelly

1/4 cup of warm water

Clear fast-drying spray paint

Container for mixing

Rubber gloves
How to make?
Blow up a balloon. (Do not inflate it to the maximum)

Hang it down the ceiling.

Make a paste by mixing water, corn-starch, and glue.

Dip some yarn in this paste.

Wrap the balloon with the yarn soaked in the paste.

Let it dry for about 12 hours.

Pop the balloon.

You'll get a balloon-shaped cotton ball.

Spray paint and now add it to your décor!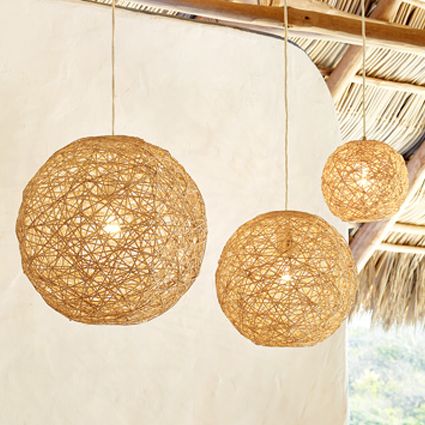 2. Floating candles
How to make it:
Take a big bowl or pot made of glass steel anything that has a wide opening.

Fill it half with water.

Put into it some rose petals, or other flower petals, items, glitters, etc.

Now add some tea-lights and lit them up.

Your home will dazzle with lights!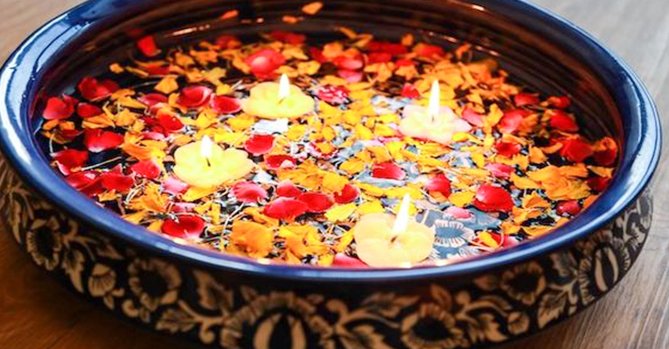 3. Fruit candles
Do not throw away the fruit peels this month. Put on your creative caps and make beautiful candles from these too!
How to make it:
Remove the middle portion of the orange.

Ensure the middle stem-like part is intact.

Fill the hollow portion with olive oil or wax.

Now lit the center stem that'll work as a wick.
Pro-tip: You can go more creative with edges by shaping them in any style!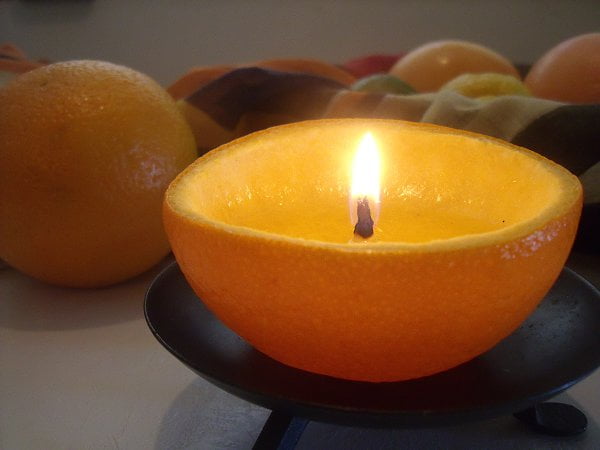 4. Color-up or decorate the diya
Buy the earthen diyas and color them up. Let the artist in you come out full swing. You can use broken glass, oil paints, and what not!
5. Fairy lights
Are you an egg-eating household? I'm sure you must be tossing away egg cartons every now and then without thinking that these can make great fairy lights! Well, this Diwali doesn't do that and use these to make exquisite Diwali lights.
How to make it:
Cut the egg carton into half.

Paint it into any color you want.

Make a hole into the center and insert lights.

Your fairy lights for Diwali are all set to dazzle!!!
6. Glitter up the lights with glitters!
7. Seashell candles and lights
You and your kids must have done some shell collection on your last beach holiday. Time to put those shells to use then! Turn them into beautiful candles and lights by following the steps given below:
How to make it:
Clean the shells.

Now glue a pre-waxed wick in the center of each shell.

Once these are dried. Melt the wax and pour them gently in shells.

Let them cool down, now, your shell candles are ready!

Likewise, you can add tiny bulbs and make a string of lights this Diwali.
8. Recycled tin can lanterns
A lot of used perfume bottles, body sprays, and cold drink tins in the house? Don't throw them away just yet. They'll be useful for making lanterns too! How? Let's see
How to make it:
First of all, fill each can with sands.

Wrap the can with paper tightly.

Place the can over a towel to avoid rolling.

Now use a nail and hammer to make the desired design.

Make two large holes on both sides of the can to pass into it a hanging wire.

Once, you're done with the design part, remove the sand and clean the cans well.

Spray the inner part of the cans with white paint and paint the outer part with another color.

Let it dry for sometimes.

Now, cut a portion of wire accordingly and insert it through both ends.

Before putting candles, fill about two centimeters of the can bottom with sand first.

Whoa, your recycled can lanterns are ready to be lit up!
These recycled cans will serve as the best candle holders as well!
9. Diyas out of CDs
If you are a 90s kid you will definitely have some CDs from your childhood lying around unused. If you have already dumped them, ask some of your friends, they might still have them around. Why I insist on this is because these will make for some very bright and eye-grabbing diyas. How? Let's learn
What do you need:
Colorful Rhinestones/ Beads

Hot glue gun/ Strong glue

Waste CD's

Diya (Small Oil/wax lamps)

3-D outliner.
How to make it:
Take a Cd. Wash it to remove the dirt and wipe it dry with a clean cloth or tissue.

Make a pattern or design on the Cd. Have patience and make it with ease.

Decorate it with some colorful Rhinestones or Beads.

Place a diya in the middle of the Cd where an empty space is given.
10. Bangle and glasswork diyas
Are there some old unused bangles in your house? Don't dump or give them away to someone. Even these can be used for making some eye-catching diyas!
What do you need:
Glass bangles and Fevibond
How do you make it:
Glue your glittery glass bangles together in a short, neat stack according to color.

Then place the holder around a tea light candle.
You could make glittery holders or ones out of plain glass bangles. Diwali is an occasion to be unapologetically blingy, so we'd say try out the glittery glass ones.
ProTip: You could also use lac bangles from Rajasthan; the mirrors on the bangles leave the prettiest patterns ever.
I don't want to make anything!
If you're running short of time, you can opt for buying some of the most exquisite lamps and candles from the online portals too! My personal favorites include this vine candle stand from Ishvatam. Gorgeous, isn't it? While you are drooling over that, check this fuchsia lantern from Good Earth as well. If you don't something so fancy and pricey, you can have a look at Flipkart's collection too. Here's a glimpse at what they have in stock for your Diwali decor.
Sweet and simple does the trick too sometimes. Go ahead and buy these before they run out of stock. Click on the link to view fantastic Diwali decoration ideas. And click here to know how to make DIY gifting ideas this Diwali!
Here's wishing you a brighter Diwali than usual! Enjoy making and buying these Diwali lights, lamps, and diyas. Do share your experiences with us. Happy Diwali! 
Image source: 01, 02, 03, 04, 05, 06, 07, 08, 09, 10, 11, 12, 13, 14, 15, 16, 17, 18, 19, 20, 21, 22
by Manali Desai