When you think of festivals in India, the first thought that comes to anyone's minds is clothes and then the food! Dressing up, being pompous, showing off are some things we Indians love during any festival. Navratri is no different. It is not just a time to celebrate and of joy but it is also believed to be a way to attain everlasting happiness, peace, and anandam (bliss) through self-discipline, self-control, and sacrifice. It is nine days of living in Mother Goddess consciousness and experiencing her grace and love. During this time, people celebrate by performing different types of pujas and ceremonies.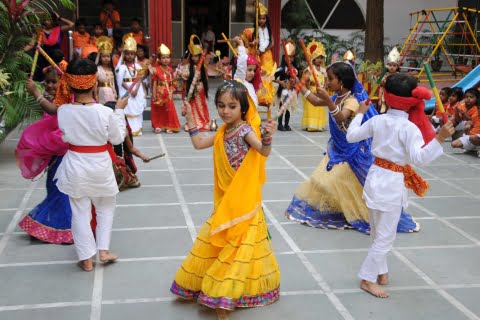 Also, most Hindus observe fasting; eating only fruits, vegetables, and dairy products, perform specific sadhana, prayers, practice celibacy, and visit temples. Does this not seem a perfect time for some cultural and religious teaching to the little ones? And why not dress them up in the Navratri traditional dress when doing so? Trust me, they will look so adorable, you'll either want to keep them that way forever or dress them in a Navratri dress every day.
Navratri dressing is something some of us look forward to all year round. The bright and colorful Navratri traditional dress makes anyone look good! Then imagine what it would do to your child. Confused on what to make them wear and how to do it though? Today, we decode traditional fashion styling tips for kids. So stop worrying about how to dress up for Navratri.
1. Dressing up little girls
Irrespective of her age, every girl is a fashion enthusiast. Not just that, but I've seen most little girls going crazy over the prospect of dressing up during festivals. So, ladies, this is the right time they can have the privilege of fulfilling their fantasies.
1. The dress
Usually, the traditional outfit for girls usually comes in a three-piece set: a flair colorful skirt, a blouse with embroidery or handwork and a bandhani dupatta shining with sequins, shells, mirrors, etc. Over and above this, there are endless other varieties available in the market these days. Go explore them with her. I can guarantee she will love it. Oh ! and don't forget to pin the dupatta safely and make sure the pin doesn't open up and hurt or fasten it properly so as the dupatta doesn't fall apart.
2. Jewellery
Opt for lightweight jewels like the necklaces made from thread, light earrings, or bindis in place of earrings. You can finish the look by a choice of matching/contrasting bangles/bracelets and waistbands.
3. Makeup
It is wise to use no to minimum makeup. Please make sure to use a good brand that is less chemical formulated so as to minimize the risk of side effects and allergies.
4. Footwear
You can decorate a pair of ballerina shoes with traditional motifs or mojris that can work well too.
2. Dressing up little boys 
Generally, men wear a two-piece set of Kediya Dhoti accompanied by a turban/cap on the head. But, we can go really creative without little boys. Here are a few options in traditional outfit ideas for Navratri.
1. Dress
Choose a lightweight dress for him too. You can either opt for 'kediyu' or traditional sleeveless jacket and dhoti or a kafni pajama for little boys. Buy the one that can be comfortably worn. You can even make them wear a traditional cap,  to complete the look.
2. Jewellery
For little boys, you can buy oxidized metal ornaments: a neckpiece, an ankle Kada, and push earrings that won't require piercings. Alternatively, you will also find thread crafted accessories for boys. These options are super light and comfortable too.
3. Footwear
Buy them cute mojris that are nowadays available in all sizes.
3. Other accessories for boys and girls
We can find varieties of accessories to team up with traditional outfits to complement them.
Traditional umbrella

Traditional potlis, purses or slings

Traditional armlets, wristlets

For little girls,

mehndi clad hands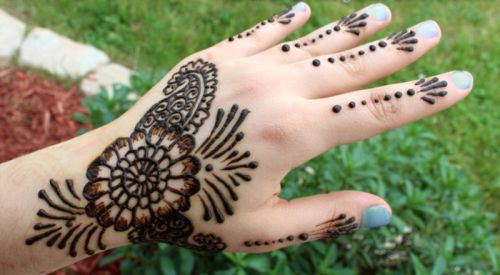 We just need to make sure to limit our purchases based on reading what will be easy-peasy for our little ones to adorn. The idea is to celebrate the festivities. Just remember, that we aren't competing with other moms and their kids! Hope you have been able to identify the right kids' outfit ideas. Celebrate and stay blessed…
Image source: 01, 02, 03, 04, 05, 06, 07, 08, 09, 10, 11, 12
Subscribe to Blog via Email