Get ready to revolutionize your lingerie drawer because the bralette trends for 2023 are here to stun and amaze! This year, it's all about embracing comfort without compromising on style. Say goodbye to cumbersome underwires and hello to sustainable fabrics that will make you feel as good as you look. Picture yourself in a gorgeous bralette crafted from organic cotton or recycled nylon, adorned with delicate lace overlays and intricate embroidery that exude a sense of elegance and femininity. But the excitement doesn't stop there. Prepare to make a bold statement with vibrant colors and playful prints that will add a burst of personality to your outfits. Whether you opt for a neon sensation or a mesmerizing pattern, these bralettes are bound to turn heads and make you the center of attention. And let's not forget the cutout and strappy designs that will make you feel like a fashion trendsetter. These creative creations feature strategic cutouts and intricate strappy details that effortlessly blend comfort and edginess. Whether you choose to flaunt them under sheer tops or make them the star of the show, these bralettes are sure to become your new style obsession. Get ready to embrace the bralette revolution in 2023 and elevate your lingerie game like never before!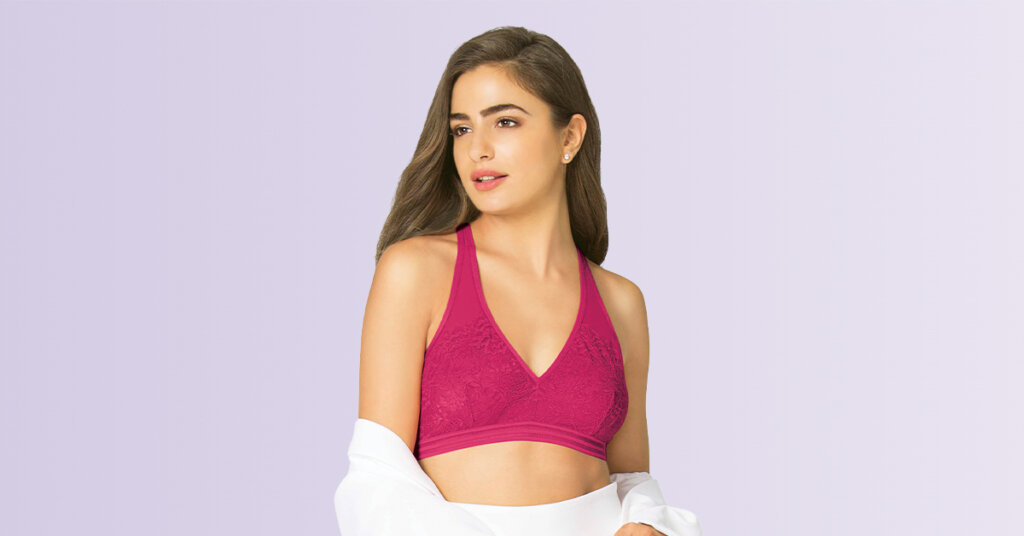 Key bralette trends for 2023
When it comes to bralette trends in 2023, there are a few key themes that you won't want to miss. From embracing bold colors and patterns to the return of vintage styles, there's something for everyone to enjoy. Let's dive deeper into these trends and discover how they can elevate your bras game.
1. Embracing bold colors and patterns
Gone are the days of plain and neutral-colored bralettes. In 2023, it's all about embracing bold and vibrant hues as well as eye-catching patterns. Think vibrant reds, electric blues, and playful prints. These statement-making bralettes will add a pop of color and personality to any outfit, making you feel empowered and confident.
Imagine a day at the beach, wearing a vibrant red bralette under a sheer white blouse. The contrast between the bold color and the delicate fabric creates a striking visual that will turn heads wherever you go. Or perhaps you prefer a more subtle approach for a casual day, opting for a bralette with a playful print peeking out from under a tailored blazer. The possibilities are endless when it comes to incorporating bold colors and patterns into your bralette collection.
2. The return of vintage styles
Everything old is new again, and this saying rings true for bralette trends in 2023. Vintage-inspired designs are making a comeback, taking us on a nostalgic trip to the past. Lace detailing, delicate embroidery, and intricate strap designs reminiscent of bygone eras will add a touch of romance and timeless elegance to your lingerie collection.
Imagine slipping into a bralette adorned with intricate lace detailing, feeling like a modern-day Marilyn Monroe. The delicate embroidery and vintage-inspired strap designs create a sense of luxury and femininity that will make you feel like a true goddess. Whether you're wearing it under a flowy summer dress or a tailored blouse, a vintage-inspired bralette is sure to make you feel like you've stepped back in time.
3. High-neck bralettes: A modern twist
If you're looking for a modern twist on the classic bralette, high-neck designs are here to answer your call. These trendy styles combine the comfort and versatility of the bralette with a sophisticated and fashion-forward silhouette. High-neck bralettes add a touch of elegance and can be styled to create a stunning statement piece or a subtle peek-a-boo detail.
Imagine wearing a high-neck bralette under a sheer blouse, allowing the intricate strap design to peek through, creating a chic and alluring look. Or perhaps you prefer a more daring approach, pairing a high-neck bralette with a tailored blazer for a powerful and confident ensemble. With high-neck bralettes, the possibilities for creating unique and stylish outfits are endless.
How to style the latest bralette trends
Now that you're up to speed on the hottest bralette trends for 2023, let's explore how to style these fashionable undergarments to create stunning and on-trend looks.
1. Pairing bralettes with high-waisted bottoms
High-waisted bottoms are the perfect complement to bralettes, as they create a balanced and flattering silhouette. Whether it's high-waisted jeans, skirts, or shorts, the combination of a bralette and high-waisted bottoms adds a touch of femininity and vintage charm to your outfit. Complete the look with a statement belt and your favorite accessories for a chic and fashion-forward ensemble.
2. Layering bralettes for a chic look
Layering is not just for outerwear; it's also a fantastic way to add depth and style to your bralette outfits. Pair a lace or mesh bralette with a sheer top or an unbuttoned shirt to create a chic and subtly revealing look. Experiment with different textures and colors to achieve a unique and eye-catching ensemble.
3. Incorporating bralettes into formal wear
Bralettes are not just for casual outfits; they can also be incorporated into formal wear, adding an unexpected twist to your ensemble. Pair a lace or embellished bralette with a tailored blazer or a flowy kimono for a sophisticated and fashion-forward look. Complete the outfit with a high-waisted skirt or tailored pants for a stylish blend of elegance and edginess.
4. Choosing the right bralette for your body type
When it comes to choosing the perfect bralette for your body type, it's all about finding a fit that makes you feel confident and comfortable. Here are some tips to help you find your ideal bralette:
5. Bralettes for small busts
If you have a smaller bust, opt for bralettes with soft cup padding or structured cups to add subtle volume and shape. Look for delicate lace detailing or patterns that create the illusion of a fuller bust. Adjustable straps and back closures are also essential for achieving a customized and comfortable fit.
6. Bralettes for large busts
For those with a larger bust, support is key. Look for bralettes with wider bands, thicker straps, and underwire support to ensure adequate support and lift. Reinforced cups and adjustable straps are also crucial for achieving a secure and comfortable fit. Additionally, seek out brands that offer extended sizing options to find the perfect fit for your curves.
7. Bralettes for athletic body types
If you have an athletic body type, choose bralettes with supportive bands that provide a secure fit. Look for styles with intricate strap designs or detailing that add shape and dimension to your silhouette. Opt for fabrics with a bit of stretch to ensure comfort and ease of movement.
So, there you have it – the bralette trends to watch out for in 2023! Whether you're a long-time fan or new to the bralette game, these stylish and comfortable undergarments are sure to elevate your lingerie collection. Embrace the bralette revolution, experiment with different styles, and find the perfect fit for your body type. Get ready to rock the latest trends and feel fabulous. Your lingerie drawer will never be the same again!