As summer bids farewell and the rains arrive, it's the perfect time for water play, strolls in the rain, and enjoying paper boat adventures in puddles. However, caution is crucial. While it's an excellent opportunity to bond with your kids and relive your childhood, prioritizing care and vigilance is a must during this season of prevalent viral fever and various diseases. Children are particularly vulnerable and can catch illnesses from anyone or anywhere. Stay mindful and take necessary precautions to ensure a safe and joyous rainy season. Today, we present some recommended brands offering essential monsoon must-haves, ensuring you and your child can relish this rainy season without worries!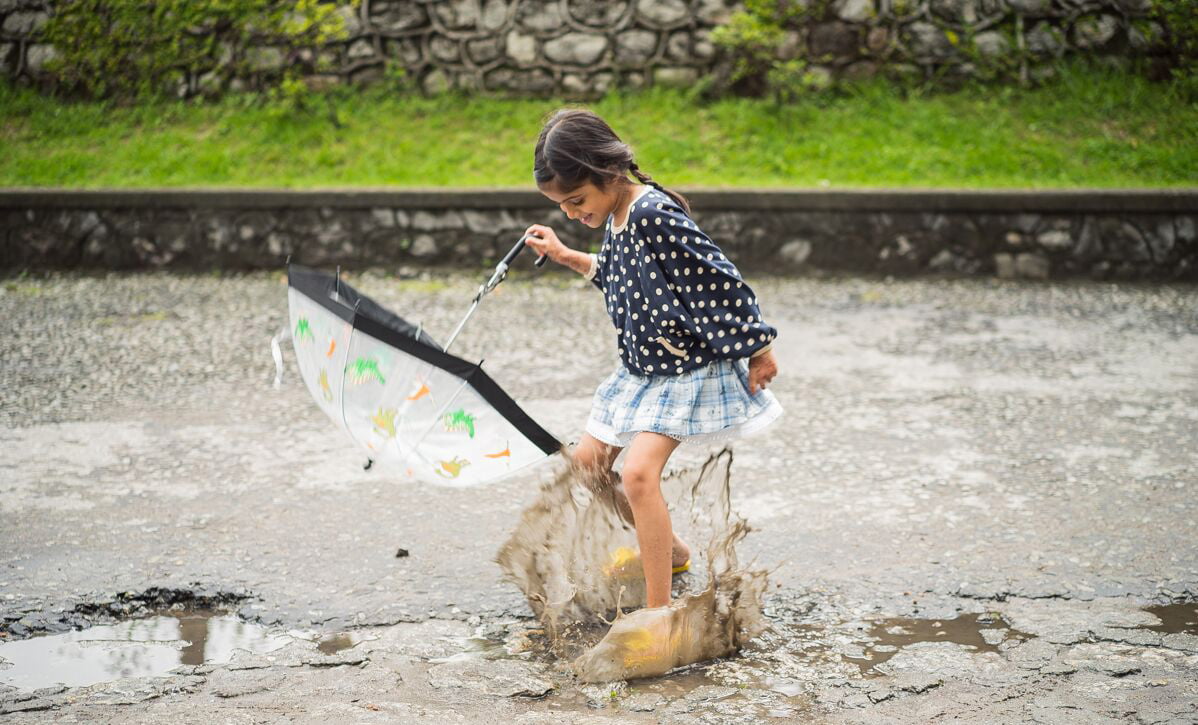 One of the ways to avoid this is by using appropriate monsoon gear and wear. It could be drab, but these days even monsoon gear has so much variety and color that it'll only cheer up your toddler. Watch their eyes light up as you buy them an umbrella with their beloved Disney character or a sandal that fashions their favorite fruit.
Today, we give you a few such places and brands that provide the kind of gear that will help you and your child enjoy this pouring season without fear!
Monsoon must-haves for kids – Amp up their safety and style quotient:
1. Favorite toon character-inspired umbrellas by Disney
What better way to help bring a smile to your child's face than by a cartoon character? This will serve two purposes, one, yours to ensure that your kid doesn't get wet, and second, satisfying your child's desire to have a Disney character to carry around and show off. Disney brings to you a range of umbrellas with prints of Disney characters like the endeared Princesses, the much-liked Mickey Mouse, and most kids' favorite superhero Spider-Man.
Price: 750- 1500 INR
Available: At Crossroads, Shoppers Stop, Hypercity, Landmark, and John Umbrella Airport outlets across the country/ The Champa Tree Marketplace
2. Scarves by Shingora
Shingora, a fashion hub known for its accessories catering to kids, men, and women, brings to you something to help make this wet season a little more fun for your child. What's more! It has cartoon characters too! A Disney character to wrap around their minuscule necks would be a perfect accessory for kids to brighten up their attire this monsoon.
Price: 545-1495 INR
Available: Their website
3. Classy umbrellas by

Hamleys
Hamleys is a place where adults and children alike can get enchanted and lost for hours. This Monsoon, they bring you more charm! Their very own umbrellas. Let your child's love for Hamleys be known with these eye-catching and super classy umbrellas. Flaunt this stylish-cum-cute monsoon gear monsoon in your house garden!
What's more! They're even pocket-friendly as the price is very reasonable.
Price: INR 799
Availability: Across all Hamleys stores countrywide
4. Rain-proof footwear by Crocs
The footwear collection from Crocs exemplifies the very reminiscence of your childhood. Designed especially and specifically for the little ones, this collection features footwear fit for this muddy and wet season. The collection boasts of fun interesting designs competent rightly with the kids. It has an eclectic mix of quirky graphic prints like pineapples, bananas, and sweets on its LED sandals sure to charm your child. These are affixed with permanent LED fruit charms that will let up each step of your child the way they light up your life.
The adjustable hook and loop will provide the right grip and a secure fit to make your child feel comfortable and the playful graphics will only ensure that these become their favorite from their entire footwear collection. To top it all, this fun is inclusive of classic crosslite foam cushions that the kids love.
Price: 795-3495 INR
Availability: Any Crocs outlet near you/ their website
Hope these help make your as well as your child's rainy season not so dry! Go have fun shopping for these and then watch your child have fun using them.
Featured image courtesy: www.mommygrapher.com