There has been a raging debate going around all of us regarding the alarming pollution levels and the toxic air we are inhaling. The severity of health hazards it poses- chronic respiratory and heart diseases, lung cancer, damage caused by brain, nerves, kidneys, and liver- just can't be ignored anymore.
What is indoor pollution?
And we may think that we are breathing clean in the confines of our homes, but it is time to rethink that notion as studies indicate that indoor pollution can be up to 4-5 times more polluted than the outdoor one. Yes, you read that right. And what is more disconcerting is the fact that indoor pollution is more hazardous for kids and the elderly as they spend more time at home.
While there is no instant solution for the poor air quality outside, technology today allows us to control and breathe fresh air at least inside our homes. As I was doing my research for combating indoor air pollution, I realized that although there are several measures we can take in this direction such as proper ventilation of the house, air-purifying plants, etc., air purifiers are the only and most effective devices which enable breathing fresh and healthy air at home.
The role of a good air purifier:
Air purifiers are becoming a must-have for homes and not just during the annual smog fiasco but all year long. Let's face it, in India and especially in the cities even the least polluted day isn't really ideal for breathing healthy clean air.
Our recent discovery – Whirlpool Purafresh Air Purifiers powered by 6th SENSE Anion Shield technology and 4-in-1 filter that absorb harmful gases, volatile compounds, and bad odor. Its HEPA filter combats PM 2.5 pollutants and 14 different types of allergens like dust, cigarette smoke, pet hair, bacteria, virus, mold, mildew, chemical substances, and more, giving fresh air all the time and making it super safe for my family.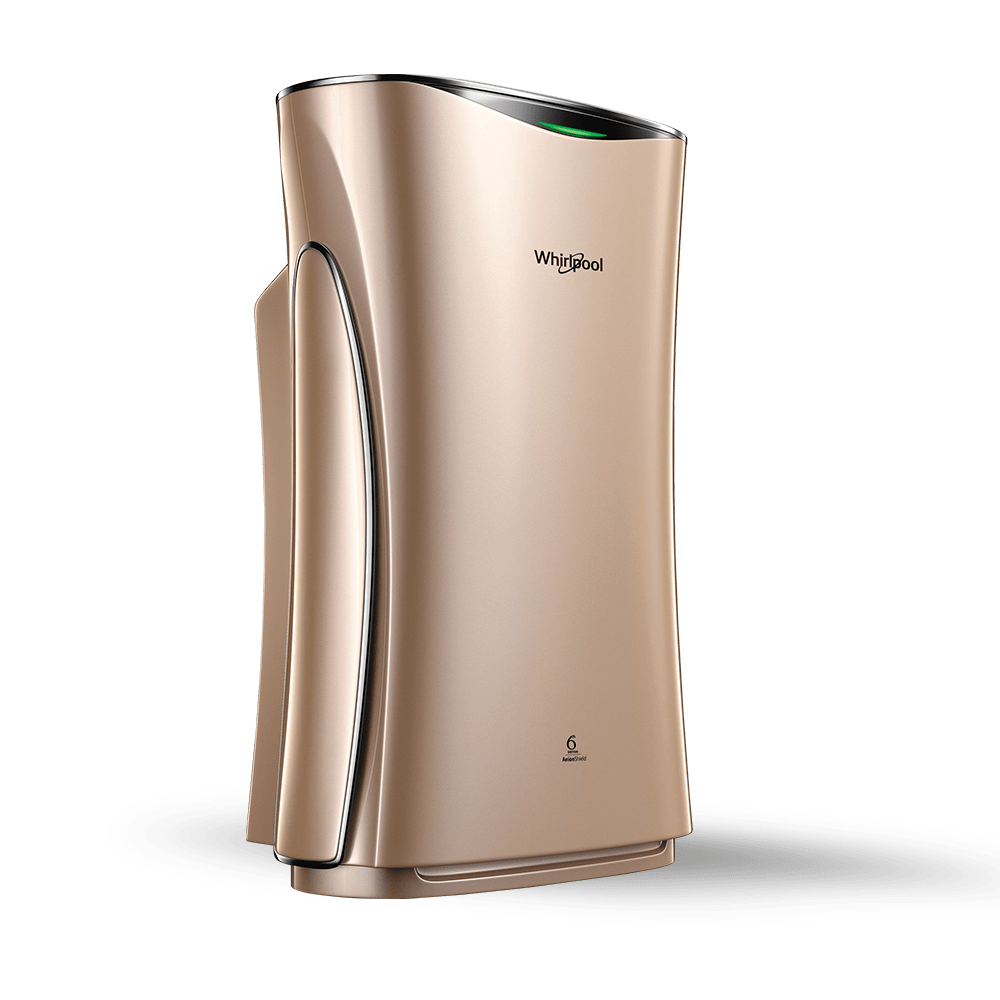 Its Air quality indicator senses the air quality and changes the color as per that, while its Filter Replace Sensor indicates when the filter needs to be changed.  To top it all, the Whirlpool Purafresh W440 also comes with a Freshonizer filter that removes bad odor making the air organic and fresh, enabling our kids to play safely inside homes.
It is also imperative here to bust some myths around air purifiers:
1. First, most parents believe that using air purifiers reduces the immunity of their children, Not true. On the contrary, younger kids' lungs are still developing and the more fresh air they are exposed to at home – where they spend most of their time – the healthier they grow.
2. Second, Air purifiers should only be used during the peak "smog season"- wrong again. Unfortunately for all of us, urbane air pollution (visible to the naked eye or not) is a constant reality and we need to take every measure to reduce its adverse effects.
3. Third, only households with pets, children, elderly or those with health issues require air purifiers. In fact, everyone needs pure air to breathe, at least indoors, considering we are exposed to so much pollution outdoors.
4. Lastly, it is also said that air purifiers are noisy and create a lot of disturbance, but if you choose an Air purifier like Whirlpool Purafresh that comes with a silent mode, it will ensure you and your family get a good night sleep with an added abundance of morning fresh air.
I highly recommend a Whirlpool Purafresh Air Purifier today to bring in the freshness of the pure air and keep your family healthy and your mind worry-free.
Subscribe to Blog via Email