I believe that parenthood is a journey with lots of ups and downs. It has been 8 years since me and my husband started this journey. We have tried to make the most of these 8 years since our son came into our lives. Like any 8 year old, our son too is very bubbly and full of life. My entire day just goes by trying to keep him engaged in indoor activities and just answering all his questions. Normally, my son is someone who sleeps till late. We literally had to pull him out of his bed in the mornings for school. I used to wonder how to engage him with DIY activities for kids.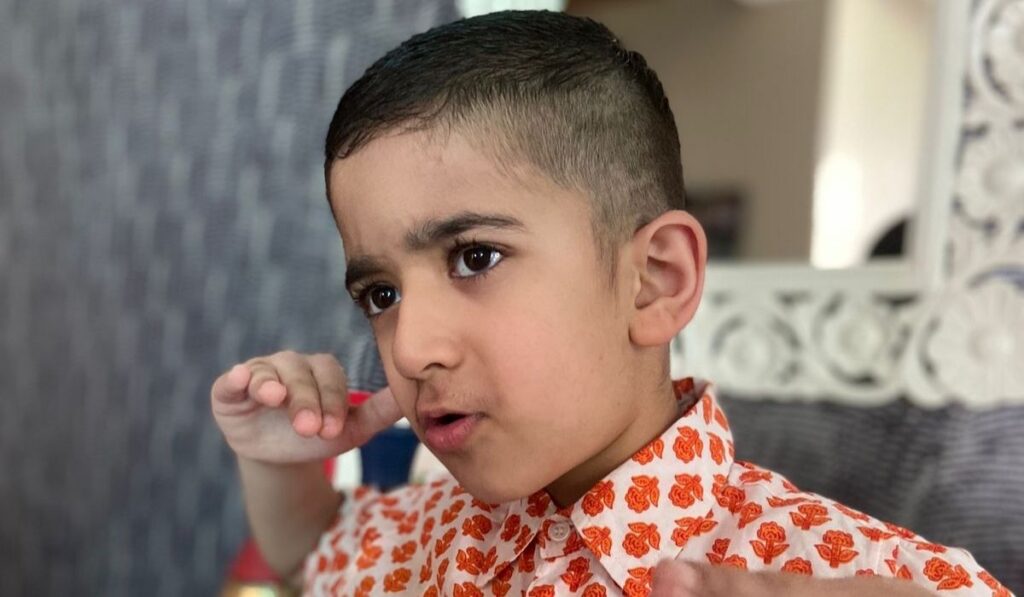 Last Friday, however, on the day of my birthday I was in for a big surprise. Not only was he up from his bed before I woke up, but he had also even prepared this most adorable popup card for me.
The moment I opened my eyes, I found my little boy standing in front of me with his broad smile, this beautiful card in hand, and a 'Happy Birthday Mamma' poster on the wall. I didn't even know when he prepared this card and the poster for my birthday.
Thank you ZILLSKILL for introducing him to this and much more:
The card, the poster, my son had learned was all as part of workshops conducted by ZILLSKILL, the extracurricular destination for kids. We wanted to give our child an upbringing as close to what we had as children. My husband and I have always encouraged our son too to not just focus on his studies but spend some time on DIY activities for kids as well.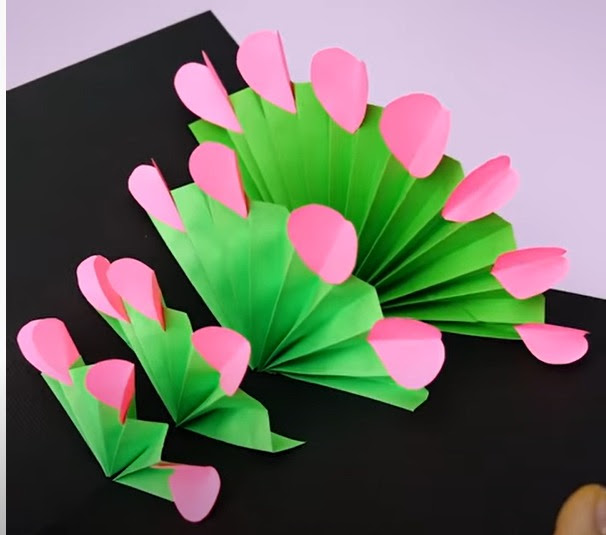 Since we were not able to send our son out due to the fear of COVID, we were looking for alternatives for such activities while sitting at home. Thus we came across ZILLSKILL through an advertisement on Facebook. There were lots of DIY activities for kids to choose from, however, since he is still too young to have a hobby of his own, we enrolled him for the Silver Plan on ZILLSKILL. In this plan, ZILLSKILL offers various hobby classes for children to explore, enjoy and learn from. Some of the sessions included in the Silver plan are drawing, calligraphy, craft, dance, Yoga, and many other fun sessions.
It is in these sessions that my son learned how to make a popup card too. One of the biggest advantages of these workshops on ZILLSKILL is the interactive sessions with a live tutor. I find the tutors on ZILLSKILL to be extremely helpful. They understand the children well and conduct the class as per the needs of the children, my son included. In fact, this is one of the very few places where I find my son himself stopping the tutor and asking questions whenever he is in a doubt.
Here's a list of all the interesting art workshops that are currently being organized by ZILLSKILL.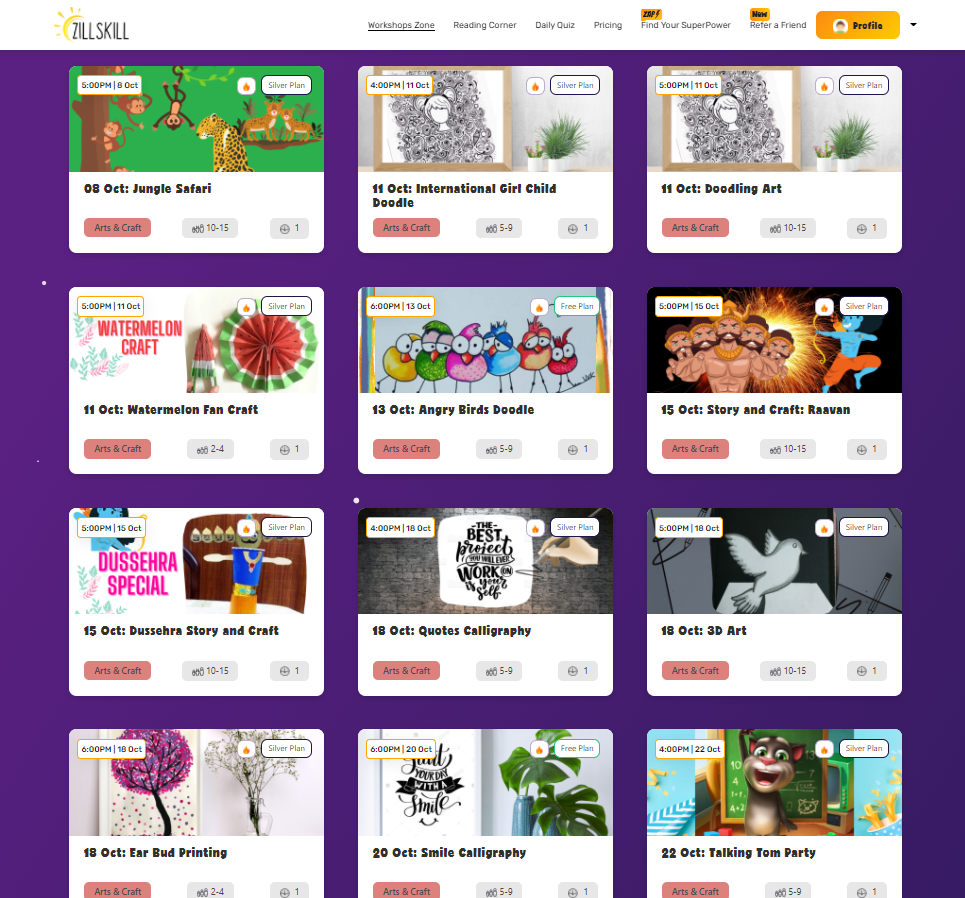 The sessions are child-Friendly with very attentive tutors:
The popup card session was one of the first sessions my son attended with ZILLSKILL.
Being still early days of his attending these sessions, I was there with him while he was attending this session. Even though this was a craft session that involved cutting and sticking paper, I was pleasantly surprised to see how less the scissor was being used. I also loved the fact that every time the children picked up the scissors to cut the paper. The tutor constantly kept educating them on how dangerous a scissor or any other sharp object can be. Even though this may have been a very minor thing for them, for me these gentle nudges from the tutors were a major reassurance.
They made me feel comfortable that he was in good hands. Not just with scissors, even while using colors or glue, they seemed very watchful. They kept telling the children about the various precautions they needed to take while using these items. Throughout the sessions, the tutors were watchful, yet extremely easygoing and accessible. DIY activities for kids could never be more reassuring.
The tutor used stories to engage the children, encouraged the children, asked generic questions, and kept all the children occupied throughout. Another great value my son learned from this workshop was to clean up after he had completed the workshop and keep everything back in place, without too much wastage.
We are now seeing a new creative side of our son:
It has been almost 20 days since my son has enrolled in these DIY activities for kids on ZILLSKILL. Though it is still early, I am already seeing a lot of changes in him. For one, he is super excited and looks forward to his daily dose of similar workshops with ZILLSKILL. He does not need any reminders about these classes. Moreover, he is ready with whatever he would need for the session that day well in advance.
Another great change I see is that as he attends more and more workshops with ZILLSKILL. He is less inclined to play on my mobile phone. He now prefers to make a craft out of any paper he finds at home. I also find him more active and he loves to talk about what he learned in his sessions, over the dinner table now. He has also grown in confidence. Just 8 years old, I cannot even imagine making a similar card when I was of his age. I am so proud of my baby boy and the learning he is getting with ZILLSKILL.
My son is now a fan of ZILLSKILL
My boy thoroughly enjoyed the ZILLSKILL dance session. By performing to triumph on a variety of prolific music, the performer in his was able to explore freestyle and joyful expressions.
He particularly appreciated how well the session was moderated. He felt like the virtual room's ambience came to life in reality with so many kids in it.
Here's a little bonus for you
My son loves the workshops that get conducted on ZILLSKILL every day. That is not the only reason why he is a big fan of ZILLSKILL's DIY activities for kids. Besides the workshops, he also gets to enjoy a variety of other components as part of his ZILLSKILL experience. He loves to spend time on the Reading Corner where he gets to learn about everything under the sun and beyond. From short and long blogs to an A-Z Encyclopedia of Hobbies, News Articles to Stories for Kids, and much more, he loves to read them all and get to learn so much from them.
Another aspect we personally loved was ZAP, the ZILLSKILL Assessment Program. It is an excellent starting point for embarking on the activities forum. A scientifically designed aptitude questionnaire, we initially took the test for fun. But we were pleasantly surprised to find the results to actually match with the actual interests of our son.
Oh, and here's a little secret that we have absolutely capitalized on. Besides everything my son loves, ZILLSKILL also has this brilliant referral program running currently that every parent should make the most of. With this, every referral gets my son and his friends he refers to ZILLSKILL a 7 Day free access to their Silver Plan. With no upper limit on how many extensions one can enjoy, you can technically enjoy ZILLSKILL's silver plan for a whole year without spending a rupee.
So, what are you waiting for? Use my referral code CHAMP01 and enroll your child for the DIY activities for kids today to get up to 1 year of free access to the ZILLSKILL Premium Plans. I am sure you will thank me later for this.