Time flies by very fast, within no time, your little one grows from an infant to a toddler who is now ready to run around and explore the world. As a toddler grows, they need activities that will help them develop mentally and physically. One of the best activities for a child's physical development is cycling. It helps strengthen the lower body muscles and motor skills.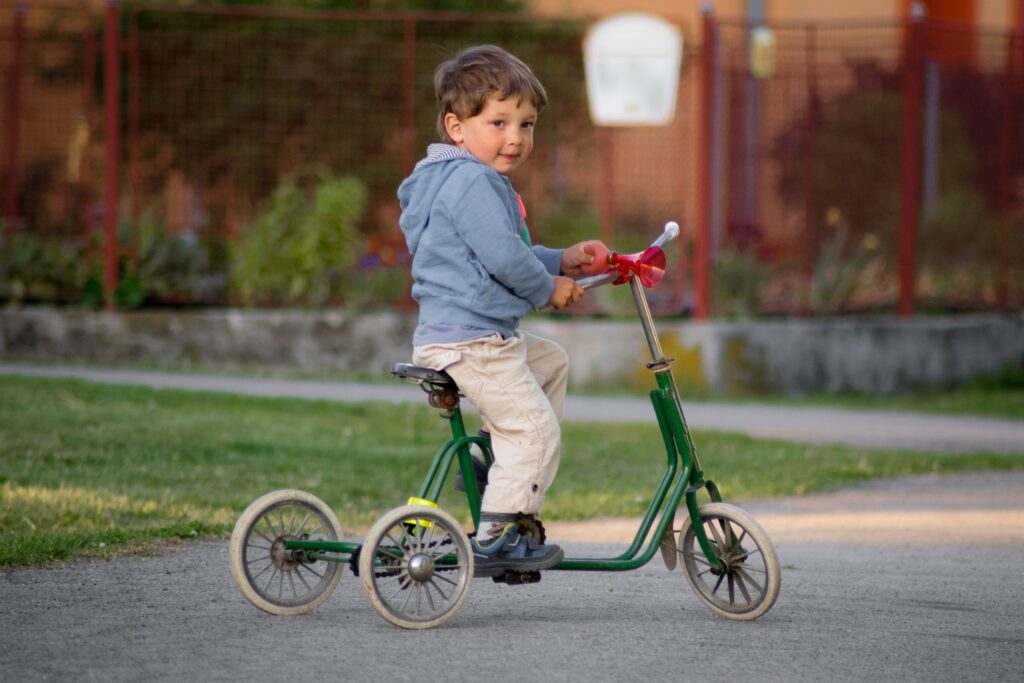 The first cycle parents choose for their kids is a three wheel tricycle, because it provides safety and helps children learn how to paddle. Factors parent's keep mind with their first such purchase include: colour, style, design, and most importantly the child's safety. It gives parents a lot of happiness seeing their little darlings cycling on these beautiful tricycles for kids with vibrant colours and fancy accessories on them. So, when you choose a kids' tricycle, ensure that you pick a tricycle for kids from amongst the renowned brands in the town.
R for Rabbit is famous for producing one of the best baby products, and their products are high-in-quality and safe for toddlers. The company has won Times of India Most Valued Mother & Child Brands 2020-21 Powered By FEMINA. Therefore, with this agenda in mind, the company has launched tricycles for kids that are not only attractive but are manufactured with the best quality material, and all safety measures are taken.
Best tricycles for kids – Options to evaluate:
R for Rabbit Tricycles for kids is as per age group, which are between 1yr to 3yrs. They have been designed according to each age group and the needs of kids. These tricycles for children are priced between Rs 4000/- to Rs 10,000/- along with the accessories like bucket, handle bar, bell etc provided. However, the tricycle range could vary as per the model and accessories you choose for the benefit of your toddler.
Features of tricycles for kids:
The R for Rabbit Tricycles for kids comes with a plug-and-play feature making it easy for parents to install the tricycle without any hassle and within minutes. The features of these tricycles for kids are customized as per the age of the child. If parents are looking for a tricycle for 1 year old or tricycles for 3 year old they could find a suitable tricycle from their wide range. These cycles are light and weigh only about 10kgs approx.
The brand has a huge collection of kids' tricycles and you could purchase the one most apt for your toddler.
A few models have been mentioned for your reference:
1. R for Rabbit Tiny Toes Sports Plus
You can buy this attractive R for Rabbit tricycle in three different colours including, denim blue, light grey, and bottle green. The product weighs 11 kgs and features two spacious baskets to keep little stuff in one place. If you like this product, then you can buy it online at an economic price range of 6841/-.Furthermore, the cycle features 5 point safety harness seat belt and 360-degree rotatable cushioned seat, parental control stick, anti-skid EVA rubber wheels, and other features for better comfort and convenience.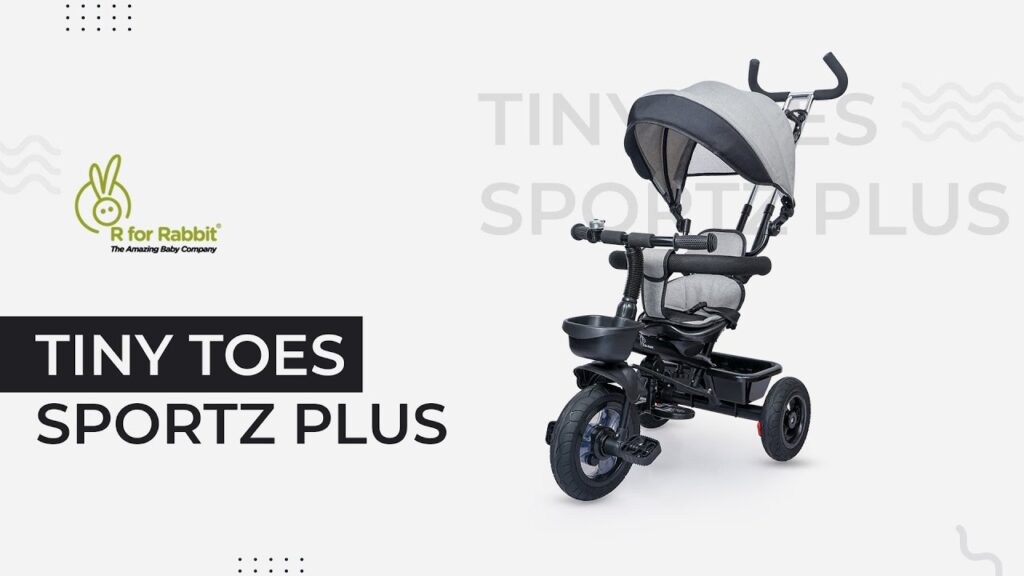 2. R for Rabbit Tiny Toes Grand Ace
Want to give your little one a perfect companion during their playtime? Why not choose Tiny Toes Grand Ace by R For Rabbit comes equipped with safety features and is an ideal gift if you are looking for a tricycle for a 3-year-old. The product can be purchased at a price range from 6-8k depending on the specification. It has a foldable footrest so that your little one could rest comfortably while playing outdoors. What's amazing is it also has smart parental control with a bottle holder that makes it convenient for parents to adjust according to their height.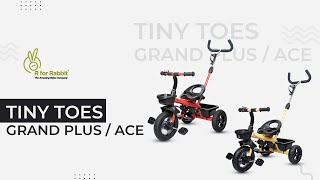 3. R for Rabbit Tiny Toes Grand Tricycle
It has a comfortable cushioned seat. Sometimes kids riding tricycles for the first time are unable to balance properly as it takes time for them to get used to the moving tricycle. Hence, keeping the toddler's safety in mind there is a seat belt fixed with a five-point safety harness to ensure that your child is seated safely. If you are searching for a tricycle for a 1year old, then go for a tiny toes grand tricycle by R for Rabbit. It features a pedal lock, parental control stick, and foldable footrest to give comfort to kids. However, you can also use this tricycle for a 3-year-old while adding more accessories.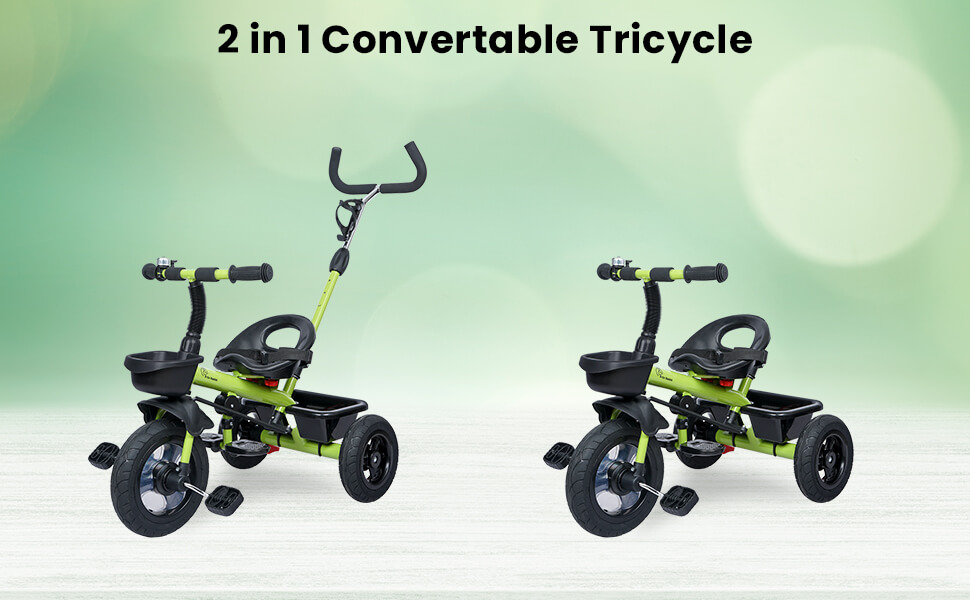 How to choose the correct tricycle for kids?
There are thousands of tricycles for kids and uncountable brands selling them. This could be very confusing and stressful for parents. But the best way to come to a right decision is to think of certain points or features that you are looking for in your kid's tricycle. Features like the tricycle should be safe and sturdy, made of good quality. There should be no safety hazards such as sharp edges, rough substances, or rusty metal that may cause injuries, cuts, or skin reactions/allergies (rashes, pigmentation, etc) to the child. You can also add some accessories like baskets, brake wire covers, and a canopy to make the tricycle more attractive.
Make your child's early cycling experience more fun and entertaining so it will not only entertain the kid, but also help in development by getting a good amount of exercise.