When bringing up a baby, every day means achieving a new milestone. Each and every single day of a baby growing up and developing is an exciting moment for the loved ones surrounded by the bundle of joy. "Oh! Look at the new things our baby has been upto." These are emotional moments not just because they are milestones for parents, but also overwhelming and often posing challenges. A parent has to prep and step up to offer their children the best in terms of facilities and safety. All babies grow at their own pace, but usually, but the right time to find the best feeding chair for the baby is between 4-6 months.
Yes, not having to carry your baby in your arms or on your lap could possibly free you up a little. And this is also good for the social development of the baby because she may be happy to join in some of the activities you do as a family – such as eating together at a table. Many parents are eager for this time because transitioning into a chair can free you up a little in the kitchen and at the table. This 'hands-free' situation also is helpful for parents to be able to do several things. Life, generally, gets much easier. But, rushing the process or forcing her into a high chair could actually be unsafe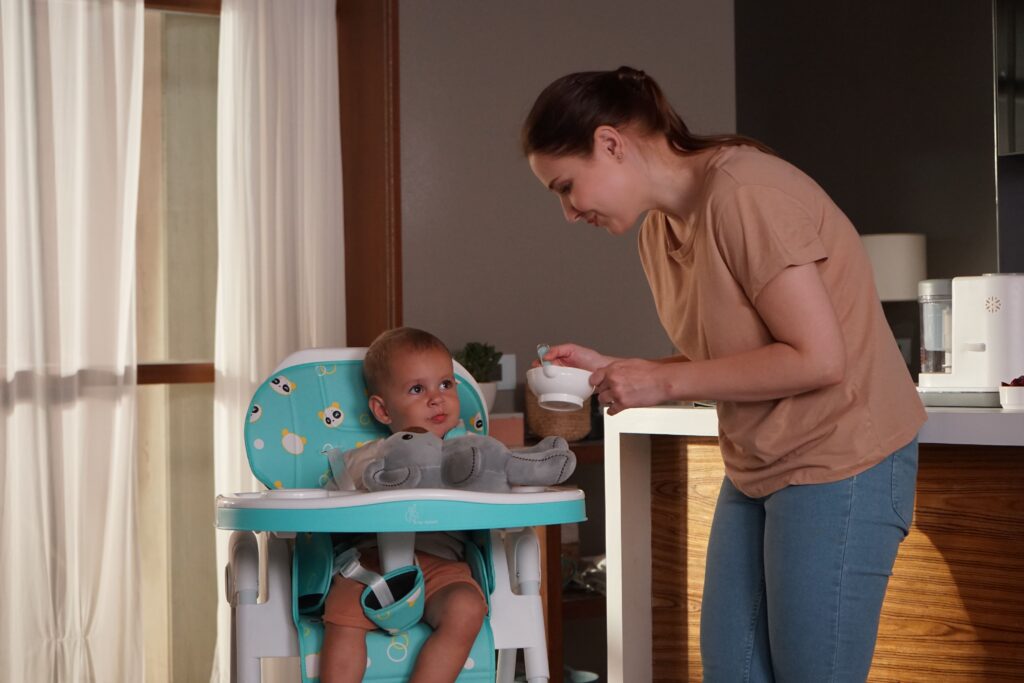 The physical and developmental milestones may be different for all babies, and each child develops at a different pace, but there are some broad indicators of when is it safe to put your precious baby in a chair.
There are mostly 5 signs your baby is ready for a high chair:
1. Ability to hold her head up
Remember the time when you had to support your baby's head for at least about 3 months? You even held her with a hand at her rear neck – right under her head. But at about 3-4 months, babies begin to hold their heads up. This is the best and most crucial indicator that your baby is ready for sitting in a high chair.
2. Stability
Parents sometimes prop a baby up using pillows. When they are growing, babies are comfortable in this position for just about a couple of minutes, after which their head and torso begin to wobble or flop to one side. Or the baby sometimes scrunches forward. If your baby is not doing this and has stability in her body – particularly the upper body, and you don't have to support her, she is ready for a high chair.
3. Posture
A baby's skeletal structure is very delicate and soft. Even then it is easy to recognize when they display enough control over their bodies to be able to sit in a distinct posture. Ideally, when sitting, a baby's shoulders should be straight and not scrunching or slouchy. She should also be able to move her arms about on her own. This is important because when sitting, especially in a high chair, she should be able to extend her hands free to reach out for food, or explore, without taking on any voluntary effort to try and sit up straight.
4. Strength
That the baby is able to hold up her own body weight without shrinking forward or sideways means she will be able to sit without support. This usually happens if a baby has doubled his or her birth weight or weighs around 12-14 pounds. This means they are generally healthy.
5. Level of Activity
If you notice your baby reaching out for food from your plate, or even trying to grab something with their own hands, know that they are ready to explore. It then is actually a boost for their physical development that you put them in a high chair, and let them explore – under your supervision, of course!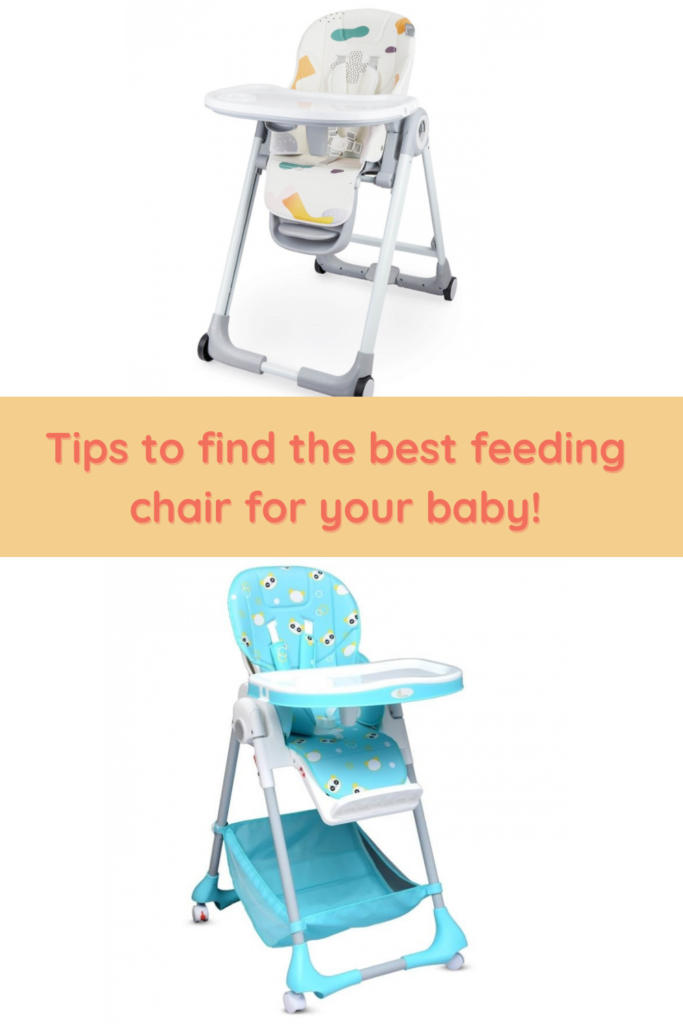 But just putting them in a best feeding chair or best high chair is not as important as choosing the best feeding chair that serves the purpose of also inculcating right eating habits in your baby.
How to find the best feeding chair for baby?
There are some key concerns that you must consider when choosing the best feeding high chair for 4-month-old babies. Even if you are buying a kids' high chair online, read the description carefully. Depending on your lifestyle, space, budget, and personal preference, keep the following things in mind:
1. Safety
The chair should have a sturdy and stable base – this is the first thing you ought to check. You don't want it to tip over. Secondly, there should be a safety strap to harness your baby in. Also, make sure the chair has an ergonomic design minus any sharp corners or spaces where fingers may get stuck. If you fancy a chair with wheels (these can help you multitask and move the baby with you when you do household chores), make sure the wheels have a lock mechanism.
R For R Rabbit Walnut Wood high chair is one of the best high chair for babies in India. These are EN14988 Certified for safety and are designed to make it adorable for the child. Not only are these foldable high chairs smart in look but have stunning features to make feeding time totally hassle-free. With multiple features like 4-in-1 feature to use as a high chair, booster chair and chair and table, 5 point safety harness, removable tray, stable structure, and many more.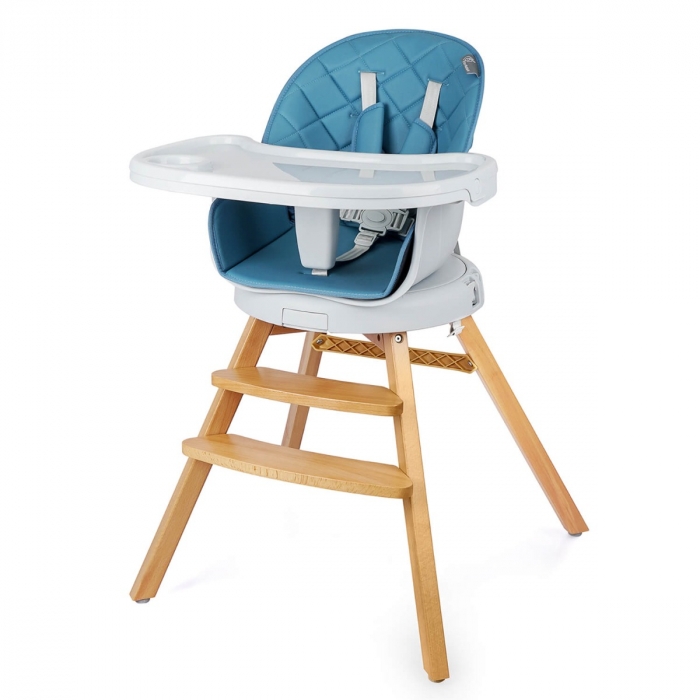 2. Durability
Depending on when your baby starts sitting in a chair, you are going to use the high chair for at least a couple of years. Ensure you choose one that is built with long-lasting material.
3. Size
This is a tricky area because the size of the chair depends on how much space you have at home. If you are short on storage space at home, consider a chair that can be folded and stored when not in use. These are also easy to carry along when traveling. The Butter Cup High Chair by R For Rabbit is by far, the best high chair in India.It is one such chair that is super-sturdy and ultra-comfortable. The fact that it can be completely folded and put away when not in use. Your child can eat, read or play in this high chair while being comfortably seated with 5 different reclinable seating positions.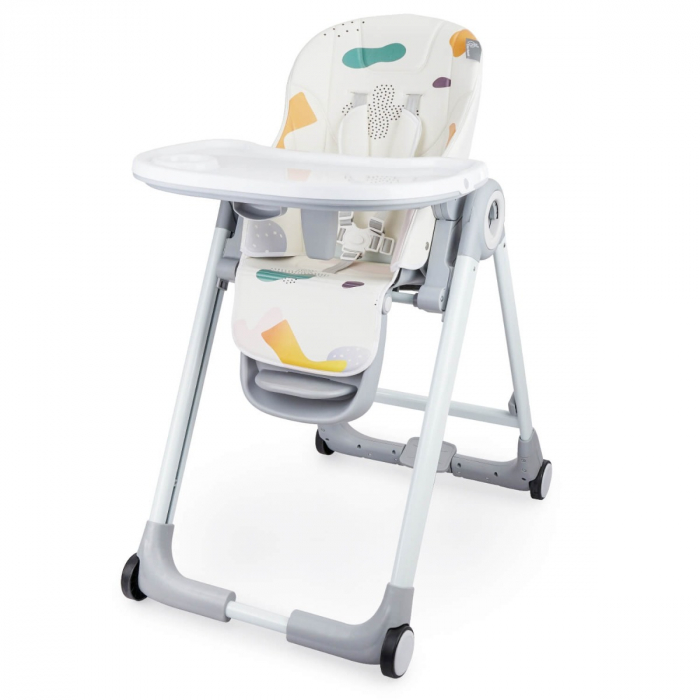 4. Cleaning & Maintenance
You don't want to have a high chair that needs to be taken apart for cleaning and then needs to be reassembled. It is a sheer waste of precious time. You'd rather invest in a high chair with removable and washable covers that can be washed and put back on again.
5. Versatility
Some high chairs come with several interesting features such as a back flap to keep the baby's napkins or top sheet handy. A removable tray is also a great idea. The best feature in a good feeding chair for a baby would be height adjustments This way the chair actually grows with your baby! It can also function according to where you need it.
R for Rabbit has a wide collection of high chairs as per your specific needs. The Marshmallow high chair, for instance, is a multi-functional baby high chair that helps develop your baby's eating and social skills. Marshmallow provides the ultimate in comfort and features multiple modes of height adjustment, backrest positions, meal tray positions, and footrest positions. It's easy to clean and looks good in your home. Its smart folding function lets you pack the highchair away in seconds for in-between meal-time convenience.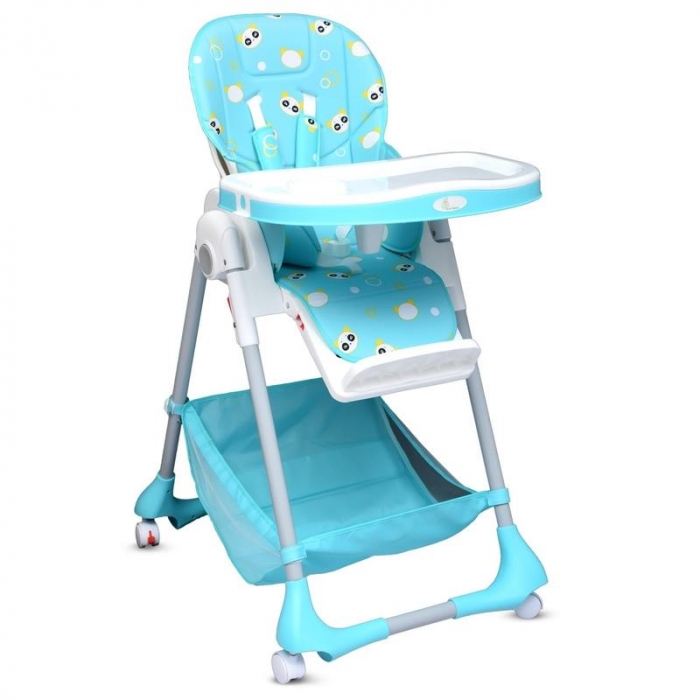 Which is best – high chair or booster chair?
It depends on you and your little one. A booster chair or seat is idea up until your little ones are weaning. In India, most parents feed their little ones even when they turn 5 years of age. But booster chairs or seat are usually used up until your baby is being fed by you. A high chair is a better option for its safe. In case if it's a wooden high chair, then you must only opt for this one. It's sturdier, and more secure.
What age do you stop using best feeding chair or high chair?
Each baby's growth is unique from the other one. Some are 'high chair-ready' earlier than others, while others want to get rid of them later than many others. However, as soon as they are 18 months, a parent might see a sign of getting rid of the feeding chair or booster chair. At three years, we'd say – you should ideally get your child to sit on a normal chair of your dinner table. So 18 month to 36 months is the time where most kids will start to move away from a feeding chair.
Now that you have made a decision to buy the one-click-away, best high chair in India, there are chances that you might be interested in knowing how to build and encourage table manners in your kids; Also, have you tried feeding these two simple homemade recipes to your baby?