From the theory of sound, let us move to the theory of music. Kids love music, no wonder you always see them dancing to their favourite tunes on the dance floor. From time immemorial schools have had dedicated music classes right from prenursery grade. Not all would agree to the concept of incorporating music as a mandatory subject, so let us look at the importance of music for our children. Music helps a child to grow in all spheres of life which covers the academic, holistic, emotional and physical aspects. The benefits of music in child development are countless. Music helps a child to grow in all spheres of life. Read on to know how it helps in the overall development of your little one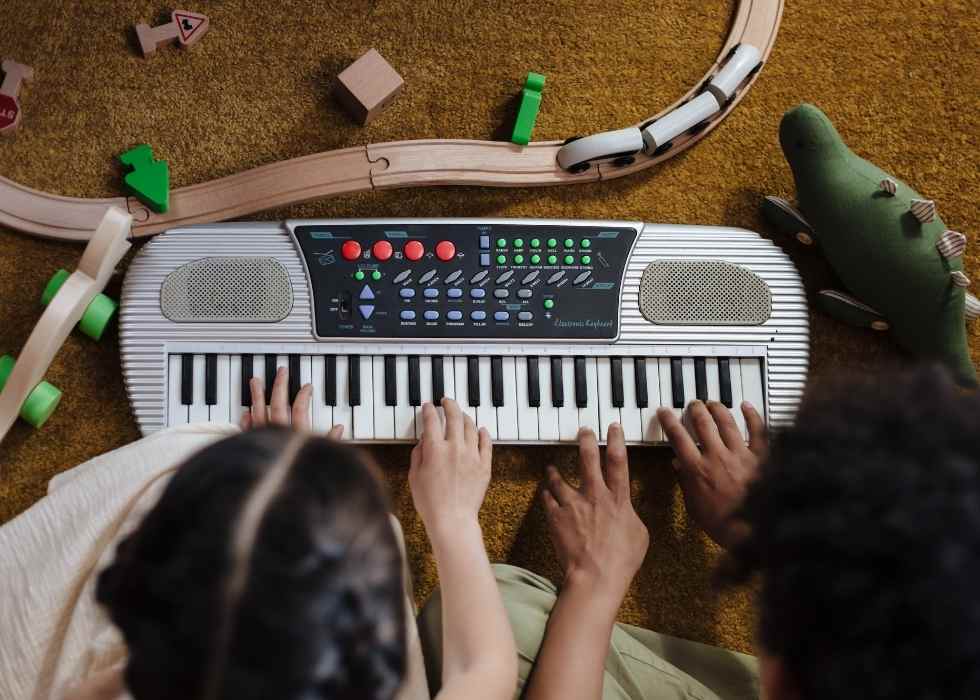 Piano or keyboard lessons are an extension of the subject of music and have proved to be very fruitful in the overall development of a child in the long run. When a child plays the keyboard, it involves the usage of both of his hands, thereby improving the independence of both hands. Since it requires the perfect harmony and sync of both hands it also aids in improving dexterity and gross motor skills which is one of the important benefits of music in child development.
If one looks closely at a Casio keyboard, it is by far one of the trickiest instruments. Each of the keys produces a different note and while playing not all your fingers would be required. So, you see there must be a perfect balance between your fingers for playing this mighty instrument. Thus, a keyboard helps in improving the concentration skills of a child. Reading the notes from the book and then applying them onto the keyboard involves precision building and then implementing those skills.
By memorizing the patterns from the musical notes, a kids' memory is also enhanced as he learns to play the keyboard. Thus, it helps in building both short term and long-term memory in the long run. Music helps a child to grow in all spheres of life. Read on to know how it helps in the overall development of your little one
Why should you invest in a Casio keyboard? 
1. It is a great investment if one plans to do it in the early years of a kids' life. It helps in improving concentration skills which will help the kid in his academics as well.
2. It is great for gifting purposes, which is much better than the noisy plastic toys which don't stand the test of time, plus do not fulfil a very holistic purpose for your little one.
3. Since your child also learns to use certain fingers on suitable musical notes, it also helps in learning the STEM principle.
4. Mastering the art of playing any instrument requires a great amount of hard work, time and the zillionth level of patience. The keyboard is no different in this case as well. It will take years to take reach that zenith of perfection, but fear not. In all these years your kid is sure to learn one basic life skill – The art of patience.
5. Playing CASIO MINI makes your kid smart and cool. By improved concentration, it'll help him to earn better grades and but of course leads to the development of a better persona.
Some of the things which you need to keep in mind before you start of keyboard lessons for your little one:
1. There is no hard and fast rule for the right age to start off for the lessons. You can always try introducing it to your kid as and when you like.
2. If you are still waiting for the right time, then 6-8 years is just about the perfect age to start it off.
3. The kid will have initial few days of difficulty in coordinating and managing both hands simultaneously. Go slow with your kid and let him take his own time. Remember mastering the keyboard requires tremendous amounts of patience both from the kid and parent.
Hope this blog solves most of the queries if you are planning to buy a CASIO MINI keyboard. Don't wait, head out to buy this gorgeous instrument for your little one.
Subscribe to Blog via Email
by Udita Saklani