Towards the end of June 2020, the very popular platform for the public procurement – The Government e-Marketplace (GeM) made it mandatory for sellers to enter the 'country of origin' while registering all new products on the portal. It's a sign of relief, especially because the past few years were increasingly seeing a trend wherein the consumer bothered less about 'made in India' for reasons, and consciously (or unconsciously) picked up products made in 'foreign lands'. According to YourStory, Indians buying online are more price-conscious, concerned about the date of delivery, skim through the product reviews, than the fact that buying something 'made in India' will ensure their spending supports the economy. It's time for locals to rise, it's time for vocal for local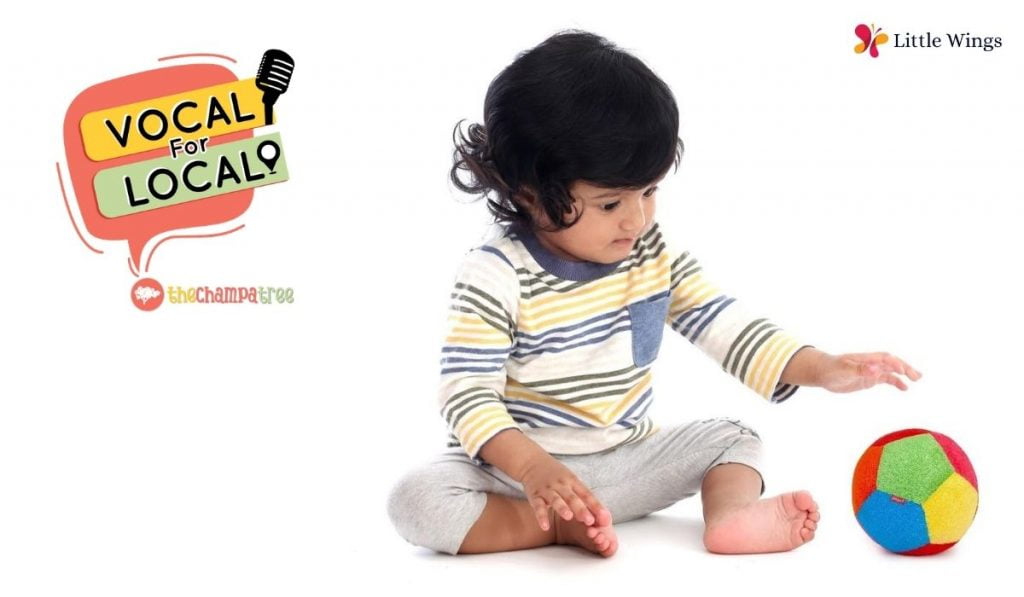 The Champa Tree's Vocal for Local series:
As a part of the initiative to support Indian and homegrown brands, in The Champa Tree's Vocal for Local series, we speak to Little Wing's co-founders – Naren and Shalini who moved back from the US in January 2020 to start a brand that is 100% safe. It's called Little Wings, which offers a plethora of educational toys for kids.
Watch this video where Naren shares with TCT readers how COVID-19 pandemic prompted him to change his strategy, what has he learned from the pandemic (professional or personal front), and more…
At Little Wings, Naren and his wife Shalini create playkits for toddlers. The playkits are age-based and come with premium wooden toys, board books, puzzles, musical instruments, and art supplies. All their kids' toys and activities are Montessori inspired. That means they do not have batteries, mostly made of wood and are open-ended so that your kids will get years of playtime out of them.
A little bit about your inspiration behind starting the business/venture?
We started Little Wings this year, in 2020 and right in the middle of the COVID-19 pandemic. We moved from California back to India at the beginning of this year and noticed that it was very difficult to find high-quality Montessori based toys for our daughter. So we did a ton of research ourselves and put together these boxes of toys for her. And we thought it would be very useful to other parents too. So, that's why we started the company and have been shipping these boxes to parents all over India.
How has COVID-19 affected your business and what do you think lies for your brand in the future?
For us, the pandemic is actually the reason we started the company. We could not go out to stores to get toys, so we resorted to online shopping. That is what showed us that there is a gap in the market for this product. We have set up our store to be completely online – we safely put together our Little Wings boxes and ship them to our customers' doorsteps. We are well-positioned to ride out the impact of the COVID-19 and come out as a strong brand on the other side of the pandemic.
What's one advice you would give to budding local businesses?
The pandemic has leveled the playing field. So all the businesses are rethinking new strategies to recover from this. Small local businesses have a great opportunity to strategize innovative approaches inr order to reach their customers and establish their brand.
Each business should learn about their customers and understand their needs to take advantage of this opportunity. I'm confident that we will see a rise in new businesses all over the world during this time.
Support this 100% 'made in India' brand. If you are looking for educational toys for kids, toddler toys, Montessori inspired playkits, or safe toys for your baby, swing by their website to order!