Stick to your dreams and remind yourself that you are special…That you own superpowers!
Meet Karuna Chauhan, a real mom featured in this month's Real Moms Real Stories Series, and the founder of Name, Place, Animal, Thing, has over 20K followers on Instagram. Head of Marketing and Communications, Karuna got married in 2010. Her first kid was a pet Labrador Moose, followed by Cherry, an abused female Labrador who was an adopted one. The latest edition to join the family – is daughter Kenisha who was born in June 2015. Today they are a family of fabulous five!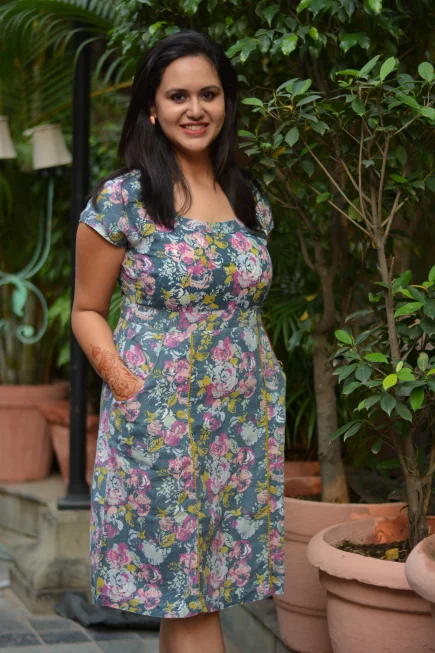 Tell us a bit about your life as a super juggler…
Ever Since Kenisha (age: 3.9) was born my life took a full circle. From pursuing my own venture, moving on to blogging and being an influencer, perusing a part-time job which became full time just 3 days back, my routines have evolved as per my own needs and that of my family. While am still settling in my new job our routine hasn't changed much. Our dogs are our alarm clocks and sharp 7:00 AM we have the dog walker, maid, and cook knocking. This is my everyday wake up call! The next 1.5 hours I spend in getting my daughter ready for school, ensuring we all have a sit-down breakfast with some delicious home-cooked meals and snacks packed for the day. We leave home at 8:45:00 AM together on weekdays. Monday to Friday I ensure there is a disciplined routine followed that helps me ensure a smooth day especially for my kids (including the dogs). More or less it's the same. Weekends are meant for chores and time with family.
What do you think about our Indian education system? 
At the moment I haven't dwelled much into it as my daughter goes to a Montessori School which I am absolutely proud and passionate about. While I say that I am not too excited about the education system in our country, especially the whole admission process but do we really have a choice after a point? I am hearing many parents say it has improved. Time will tell when we decide to admit her to a formal school in 2 years.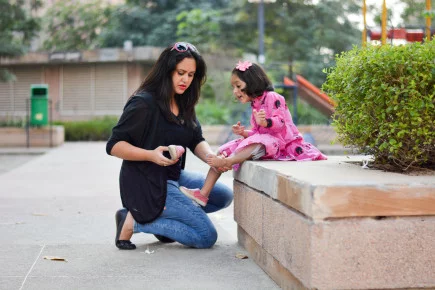 Your key to juggling and creating a balance with your work and kids?
Go with the flow. Often we compare our lives with others and feel like we are yet to achieve a lot more. But opportunities do knock on your door and you must know when is the right time (perhaps, when you are ready and your child is ready too…take one step at a time.)
What is the most challenging part of being a mother? 
The initial 1-1.5 years are the toughest. I felt exhausted and consumed while I enjoyed nurturing my baby. It is very important to nurture ourselves through the journey was the biggest lesson I share with new moms.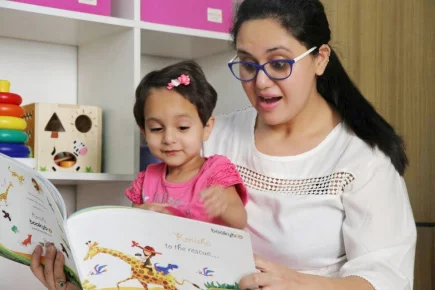 How do you spend time with your kids on weekends? 
I love to play her favorite games, eat cheat meals and lots of candies, allow her long bubble baths. Oh! Now that she talks so much we love chatting up too!
Do you manage to get some personal time for yourself? 
This is something am still working on. Currently, I am trying to get some time for 30 minute-workout every day. Nonetheless, I wish to get back to my hobby of scrapbooking soon!
What tips would you like to give to mothers in general…
To any mom – remember who you are, and that's the first step; it is so easy to get lost in this beautiful journey called motherhood. But, take baby steps and stick to your dream/dreams (if you have many). Keep reminding yourself that you are special and your own superpowers!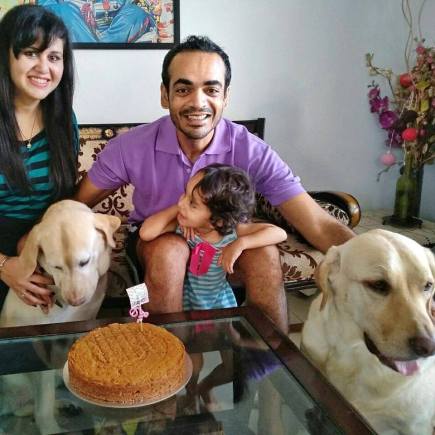 What is your parenting style? 
I am yet to be judged by my daughter on this but I would love for myself to be a balanced mom, I am that, to be honest. As a parent, it's important to be the mentor the child needs and a friend whom she can hang out with. 
Any special parenting tips?
To be honest, Our parenting style is set by us. Both Sid (my husband- Sidhant) and I do not get impacted by advice though we love suggestions.
If there was any one thing you could change about yourself at this point in life, what would that be?
Nothing! My failures have only taught me to be a better version and each opportunity taught me a new skill, helping me grow. There is no better way to live than to evolve each day.