This is a real story of a real mom who fought! "Dreams don't come with an expiry date." Preeti, realized this only much later. An Indian mom based in Philadelphia, her faith in a lot of things was revived as she entered her early 40s. The resolution to her introspection came in the form of undeterrable determination and the result was mind-boggling! This is the emergence of a woman with unshakeable confidence and in-depth happiness. Real Mom – Preeti shares her story, right from having a breech baby, to a complicated delivery, unfit body, and getting back in shape.
This could have been your story too! It's not something unique, having said which, every person has a way of dealing with it. Often, the nuggets from one story can inspire another story-in-the-making from not repeating the same pattern.
Besides, this mum of two teenage girls is so much fun on Instagram. In short, she is our undeniable inspiration!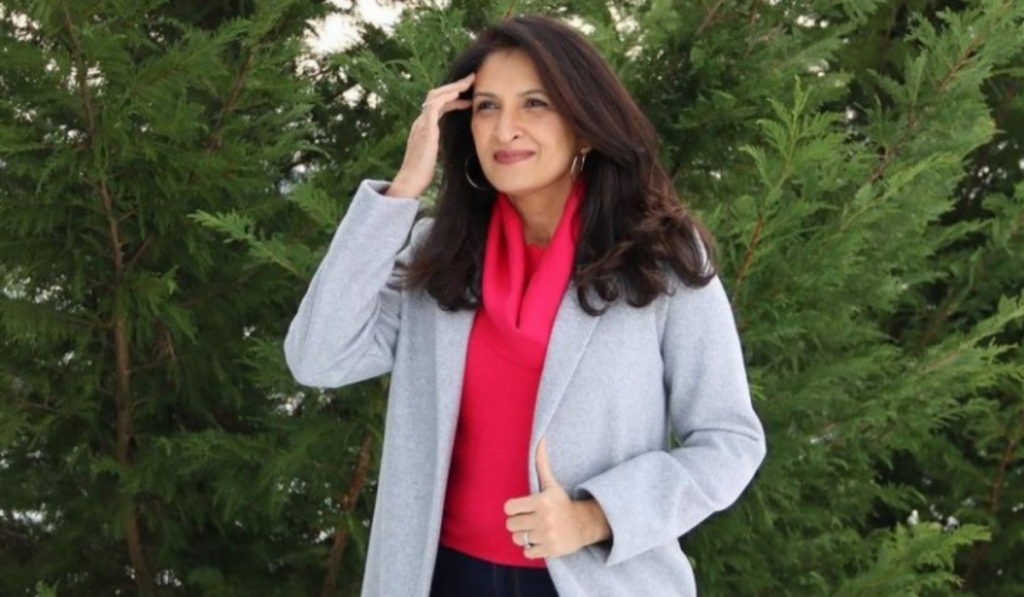 "The baby is in breech, they said" – Real mom Preeti Gandhi:
The first trimester of my pregnancy went uneventful. I was 28 and all prepared to welcome the little being into our lives. Nonetheless, seven months down the line, our willpower was put to test. The doctor suggested that I had the signs of a breech baby and hence asked me to go under the scanning machine. As expected, the scan reports indicated that my baby lies in a breech position. By and large, the breech baby position would not create many complications as the baby would turn in due course. Unfortunately in my daughter's case, it didn't happen. Breech baby complications after birth are manifold, contrary to the common belief. Unable to turn inside my womb my breech baby stuck to it, head down. Consequently, my doctor told me that vaginal birth was non-viable and I had to undergo a Cesarean.
The time that followed unhinged our lives. Breech baby complications after birth were alarming now that my baby was with me, at home. My poor baby could not turn from the breech position as she was stuck. The result: she had hip dysplasia (displaced hips). Looking back, the memories of my daughter in braces shatters my heart.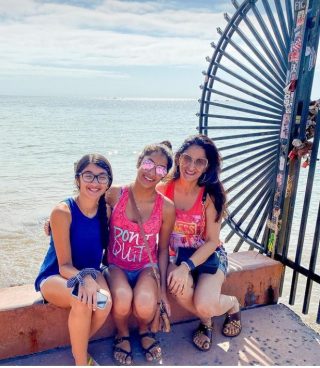 The struggle of accepting myself
Four months went by amidst hospital visits, uninhibited tears, and an optimistic interlude to our happiness. Soon after she was out of the braces, and we enjoyed every moment of her giggling and laughter filling the house. As much as I beamed in the light of motherhood, there was something that shrunk my soul.
Deep inside I was struggling to accept my body that had changed. The sagging skin and the weight that I couldn't shed. I felt overwhelmed and was feeling alone with no one to talk to or get a grasp of how I felt. That is to say, as no one around me was talking about this, I silently lived with my pain. It was a taken that a woman should look and feel a certain way postpartum, or so I felt.
Two years fast-forward, Nishka came into our lives. Handling an infant and a toddler (two under two) overwhelmed me and I decided to take time off from work. With a new title of 'Stay-At-Home-Mom', I struggled to keep a balance. Being needed 24×7, never getting time away from the chores I wondered if I had taken the right decision. My husband was supportive through this, and he would take over the kids once he'd be back from work.
You might find it impossible but I learned the hard way that we can indeed love ourselves and take care of the family. When you have little kids without age difference
Don't stress about the schedule
Keep the older one close
Stop feeling guilty, you are doing the best
Love yourself
Ask your partner to share responsibilities
Coordinate your naps
Most important – Ask and seek help
The feeling of emptiness:
My emotional vacuum was unfathomably deep. There were several layers of emotional blocks. I struggled for years because no one was talking about it. There is a social stigma attached to mental health. An outlet to help me emotionally was much needed – a place to go to and see people. So I joined the local YMCA where they offered workout classes and free babysitting for an hour and a half while we worked out.
That's where I found the benefits of consistently working out. Nonetheless, the vacuum sucked me inside. There were days I would confine myself to my car in the parking lot and cry for no reason. Binge eating junk food, secretly gobbling up chocolates and sweets were a part of my life.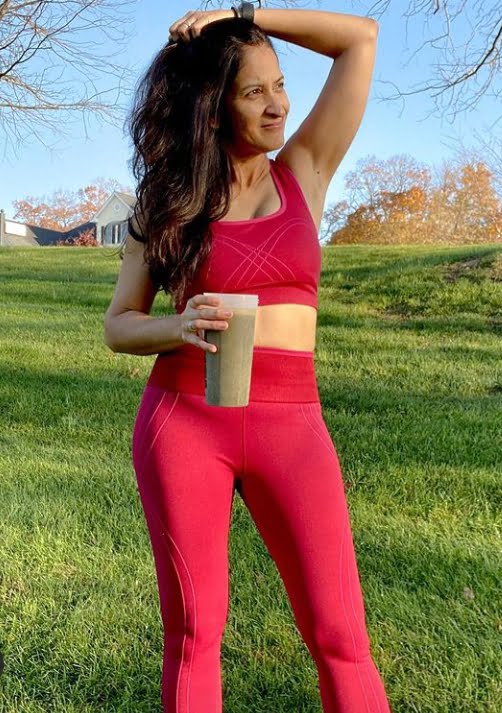 I didn't know whom to talk to. But yes, I did reach out for help. That is the best decision of my life.

Preeti Gandhi talks about fighting depression.
Fittest at the forties!
The weight started to come off and it made me feel pretty good on my skin. Five years later, I decided to go back to corporate life as the kids were older and started schooling. With a full-time job, kids, commute and life, my fitness took a backseat. The resolve to get back to workout remained a shadow.
My health was going downhill. I had constant migraines, fatigue, low blood pressure, and some days I couldn't even get out of bed to go to work. A Poor lifestyle also gradually caught-up to my health. Moreover, emotionally I had not healed from the travail of two deliveries too. It was more like I brushed it under the carpet.
The realization that I wasn't living the best version of myself broke me. I used to be easily agitated, snappy, compared myself to everyone doing well, and hence I couldn't find peace within. However, that lead me to binge eat, make multiple cocktails over the weekend to drown the feelings. To sum it up, I realized it was time to recognize and cope with my hot mess.
My aha moment!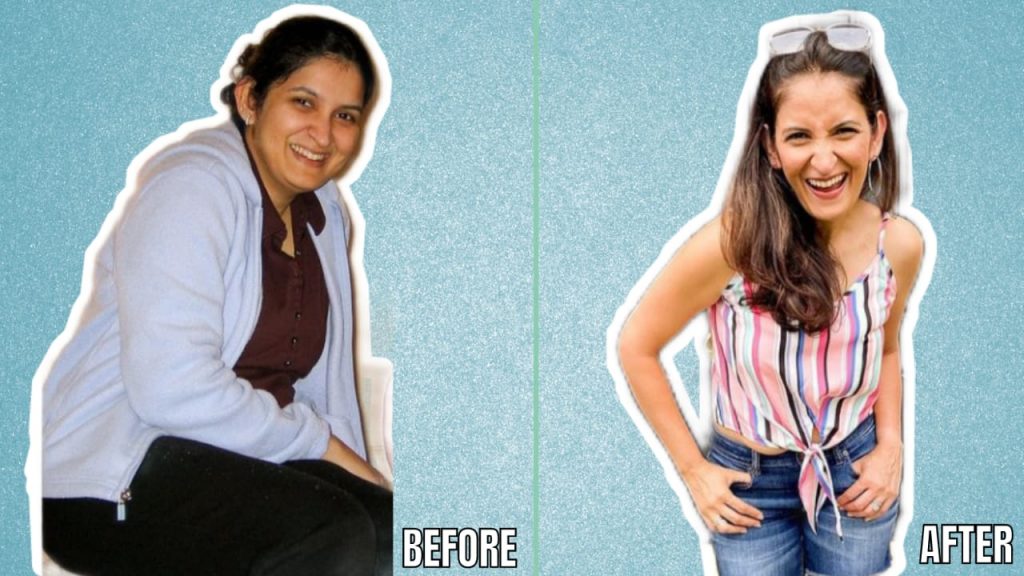 I had that AHA moment when my father-in-law passed away and my husband left for India. Suddenly, I was home with the girls for 3 weeks. That gave me a lot of time to think about priorities, how I wanted to live my life, what type of mother I wanted to be for my girls. I really had to dig deep and build courage. To feel fit and back in shape – the idea was enticing. So, I turned to find a program that could be executed at home. It didn't take me much to crack the whip. My high point is where I took my fitness journey to empower other women. Also, to build a team of dreamers and coaches who could pay it forward every day.

I have one advice for any woman – Just start!

Preeti Gandhi
Stop overthinking, stop judging yourself on past failures. Start small but 'start'! There is no perfect time or free time. You have to 'make' time.
Wake up thirty minutes ahead of your daily wake-up time – every day, every single day, and workout peacefully. That's the only way I could make time. Drink 1 Gallon of water every day. Ensure your plate is 1/2 vegetables, 1/4 proteins, and 1/4 carbs. Find an accountability partner and just go ahead with your freedom
Mom – daughter bonding:
I stick with this lifestyle to show my girls that their mom is choosing to do tough things daily, taking care of herself first and hopefully building that DNA in them too. Women are more than just moms! I'm grateful to the pandemic for the reason that I could connect with my daughters at various levels.
I've been very honest with my kids about my struggles and failures. They know life is not the highlight reel, it takes work, grit, determination, and commitment to succeed at anything. Stop preaching to your kids, be an example for them. To sum it up, they learn more from observing us.
I would tell my 13-year-old self that You can do ANYTHING!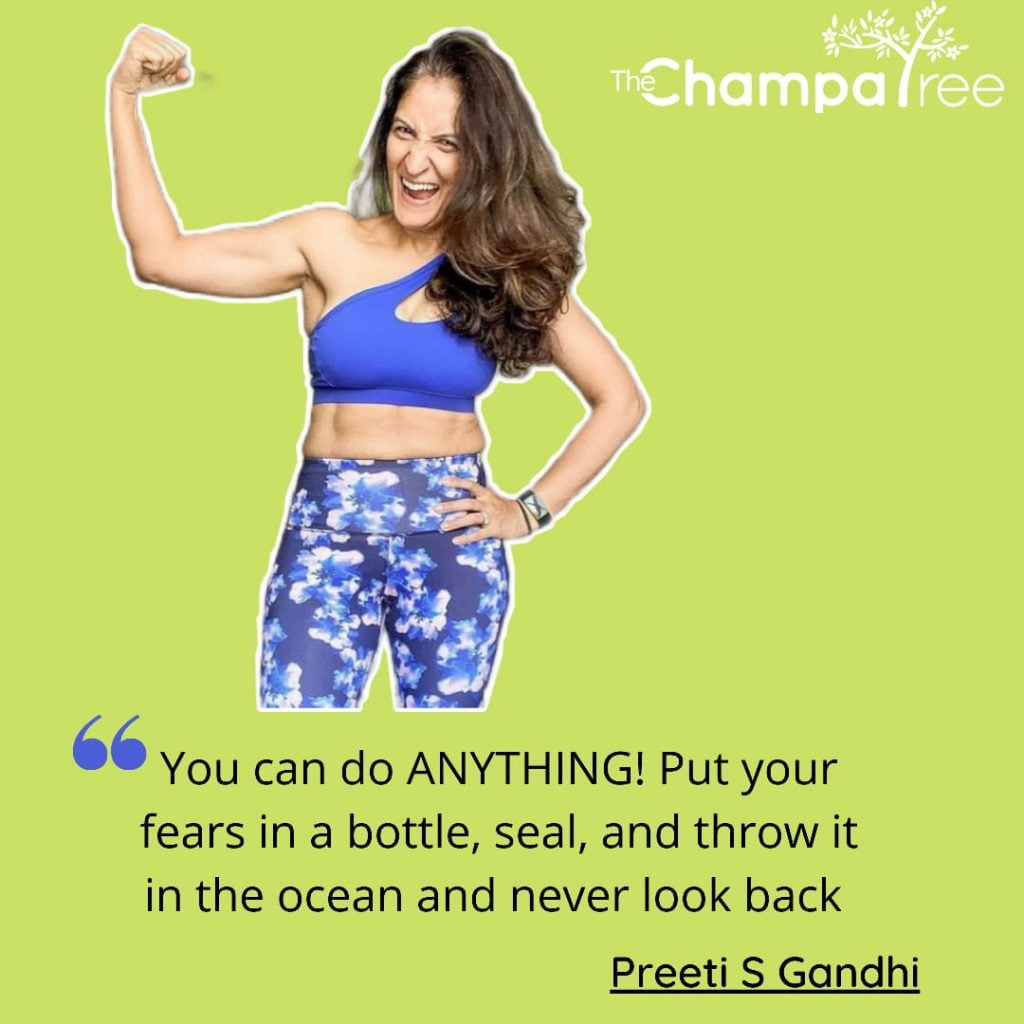 Preeti Gandhi had it tough. A breech baby who was born with a displaced hip, taking care of a baby in braces, fighting depression and dealing with obesity. She is an inspiration to all because she made sure that age is not a deterrent to her voyage to meet her inner self – A healthy, peaceful, satisfied and happy soul. If you have a #RealMom story to share click the link and join our clan of real moms.