Pregnancy is an inexplicable part of a woman's life – a phase that can be a complete myriad of emotions. The kicks are delightful, but the cramps can be debilitating. A pregnant woman may be glowing one moment and may feel terribly emotional at the very next one. Pregnancy also comes with a set of bodily changes, right from hormones going haywire to the sudden build-up of tension around the cervix. Finding some calm amidst the chaos is where pre-natal Yoga classes becomes a godsend during pregnancy. You can perform pregnancy yoga at home.
Yoga is one form of pregnancy exercise that supports a pregnant mom through the tumultuous changes her body and mind undergo while she's expecting, and prepares her for childbirth. Via practice, a deeper connection is created between the to-be-mother and her unborn child. Yoga in pregnancy is truly magical.
Yoga and I:
For me, it did and still helps me develop inner awareness and strength that makes me feel strong, confident, and attractive as a mom. Yoga during pregnancy uplifted me to a stage where all I felt like was a puking machine.
"Childbearing does not automatically incapacitate you from enjoying pleasures like spending time on your mat, unless medically necessary. There is a magnitude of programs at the disposal of pregnant mamas looking to stay active. Apart from reducing backaches, increasing your energy, encouraging better sleep, and preparing your muscles for childbirth, yoga can calm the anxious mind and develop strength and inner balance. To the wonderful mamas to be, I encourage you to listen to your body and your doctor's advice. Every woman's pregnancy journey is different, it's important to remember that your mental and physical well being is your priority."

– Sneha, Mindhouse Trainer
Prenatal Yoga – My happiness mantra
My pregnancy wasn't an easy one. Towards the end of the first trimester, I'd already experienced a fair share of mood swings and I had to do something about how I felt every single day. As someone who had never stepped on the yoga mat before, I can attest that prenatal yoga worked wonderfully for me. It helped me connect with my body and mind before and post-delivery.
What felt like an eternity of internal chaos was reversed after I tried a prenatal yoga class. I found myself feeling more motivated and better! (what prompted me is a story for some other time!) This was done with the objective of feeling happy, rejuvenated, and more than anything- to feel like I was tending to myself and the life within me. In my 10th week, I was already enjoying pregnancy yoga asanas! (Super grateful to Shyft for their awesome techniques)
Once I started, I didn't stop. Their pregnancy yoga classes are online and I saw an immediate effect on my mind and body. The sessions include a range of meditation, breathwork, and mind training exercises designed by experts, all of which are accessible from the comfort of your home!
If you are expecting, you will find that their 'Prenatal Yoga and Breathwork program can help your cause as it includes different postures and asanas beneficial for each of the three trimesters.
How Yoga in pregnancy can benefit expecting moms?
Pregnancy exercises encourage stretching and deep breathing, thus preparing a new mom for what's to come. I can totally understand how anxious new moms feel about staying fit and exercising but trust me, it doesn't have to be that way.
Prenatal yoga helps
Improve sleep
Alleviate stress and anxiety
Increase strength, flexibility, and endurance (for childbirth)
Reduce lower back pains, heartaches, nausea, headaches, and other complications
Yoga in pregnancy – Dos and Don'ts
Before you start, it's always advisable to consult your gynecologist to determine whether your body is ready for yoga in pregnancy. Once that is out of the way, you can enroll in pregnancy yoga classes, in a format wherein you are given personal attention by an experienced trainer, with all the dos and don'ts in mind.
Prenatal yoga programs include several pregnancy exercises that can help new mums prepare better for birthing their bundles of joy! These sessions are particularly helpful in strengthening the spine and hips, increasing blood circulation, relieving joint pains, increasing lung capacity, and relaxing the mind.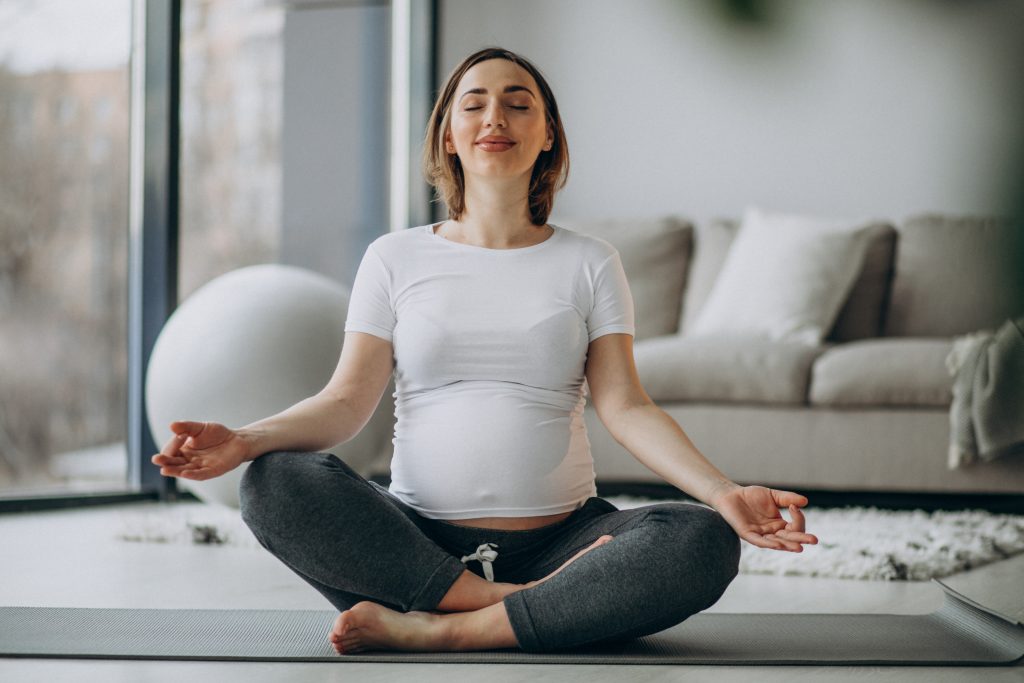 Most importantly, practicing your breathwork is an essential part of prenatal yoga, as it can help you manage pain and stress during delivery.
Pregnancy yoga enables you to listen to your body and do what is right without overworking yourself. Take adequate breaks, skip or adjust the postures as and when required, or even stop if you feel unwell. Bottom line – don't stress yourself out!
"The pregnancy yoga don'ts are straightforward. Avoid complicated poses or high-impact exercises, don't stay on an empty stomach, and definitely keep away from excessively vigorous forms of yoga and other exercises.
Yoga in pregnancy – Busting myths:
Myth 1: Expecting mums must not try prenatal yoga if they have never practiced yoga.
This is a false notion, because you will be taken care of by experienced yoga instructors who will speak to you about your health, fitness level, and pregnancy stage before guiding your prenatal yoga sessions, to ensure that you are safe and comfortable during the classes.
Myth 2: Pregnancy exercises can rob your baby of essential nutrients.
As long as you are eating a balanced meal and staying hydrated, there is nothing to worry about; your baby will get all the nutrients it requires irrespective of whether you indulge in pregnancy exercises or not.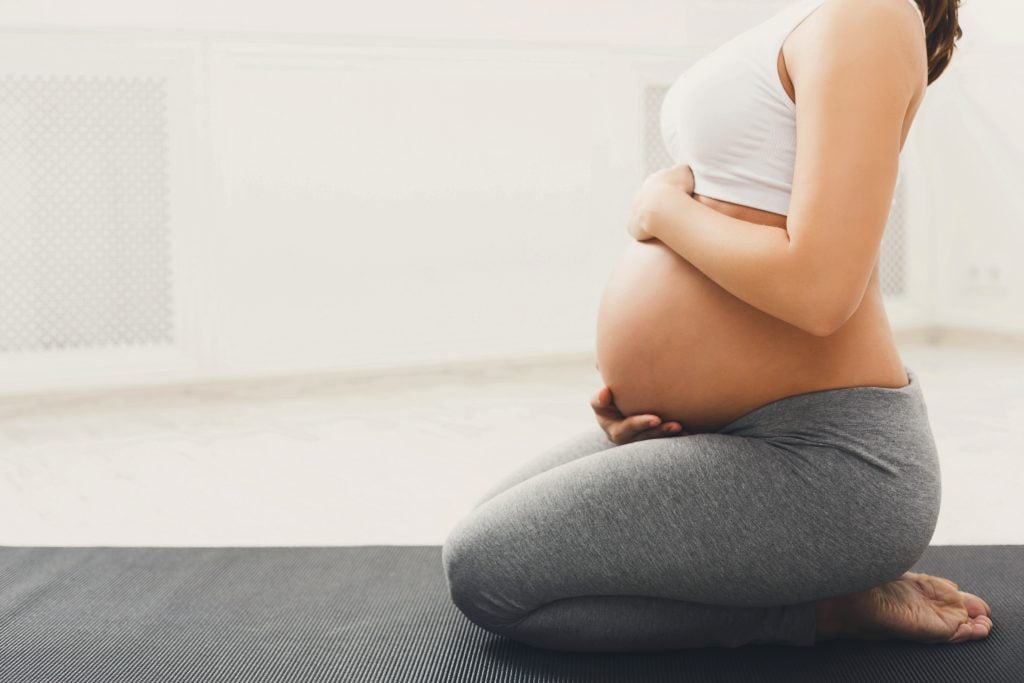 Myth 3: Prenatal yoga during the third trimester will lead to early labor.
Again, there is no proof that backs this claim. On the contrary, yoga in pregnancy can help a great deal in the birthing process by strengthening the pelvic muscles, and deep breathing can help reduce stress during labor.
Pregnancy Yoga – Confused about whether to do or not to do?

Pre-natal yoga involves simple postures and movements to keep the body flexible and active and even contributes to positive mental health. The movements, in combination with the slow and deep breathing techniques, help to improve oxygen supply throughout the body which has a positive impact on the development of the fetus. Not only is yoga a great way to improve your overall health and well being, but it also makes sure the gestation period is made comfortable for you while promoting great postnatal health.

– Nidha, Mindhouse Instructor
Yoga in pregnancy will help you slow down and enjoy the entire experience by nurturing and respecting the incredible changes within your body. Moreover, prenatal yoga sessions enable you to bond with other pregnant women, which is an incredible experience in itself. Still in two minds or perhaps you have a million questions about pregnancy yoga at home? Contact Shyft and check out their pregnancy yoga classes for moms to be!