Food items, beauty essentials, cosmetics, clothing, and pooja items constitute the must-haves of Karwa Chauth thali decoration.
When it comes to decorating a Karwa Chauth thali, there are several essential components that collectively create a beautiful and meaningful setup. These components typically include food items, beauty essentials, cosmetics, clothing, and pooja items. Let's break down the significance of each:
Food Items: Karwa Chauth is marked by a day-long fast, traditionally broken after the moonrise. Food items like sargi, which is a pre-dawn meal, and various sweets and delicacies are an integral part of the thali. They symbolize sustenance and the anticipation of sharing a meal with loved ones.
Beauty Essentials: Beauty and grooming essentials like henna (mehndi) and sindoor (vermilion) are important for married women observing Karwa Chauth. Henna is applied on the hands and feet as part of the pre-fasting rituals and is a symbol of marital bliss. Sindoor is applied to the parting of the hair and signifies a woman's marital status.
Cosmetics: Cosmetics, including kohl (kajal) and bindis, are used to enhance a woman's appearance on this special day. Kohl is applied to the eyes for protection and beauty, while bindis are decorative forehead ornaments symbolizing marital adornment.
Clothing: Women often dress in traditional and vibrant clothing on Karwa Chauth, adding a touch of festivity to the occasion. The choice of clothing is an expression of their cultural heritage and personal style.
Pooja Items: The thali is incomplete without the inclusion of traditional pooja items like the karwa (a clay pot), diya (lamp), chalni (sieve), and other items required for the evening prayers. The karwa, filled with water, symbolizes the moon, while the chalni is used to see the moon's reflection.
In essence, these elements collectively form the heart of Karwa Chauth thali decoration, representing the rituals, traditions, and the love and devotion of married women toward their spouses. Each item holds cultural and symbolic significance, making the thali a centerpiece of the Karwa Chauth celebration.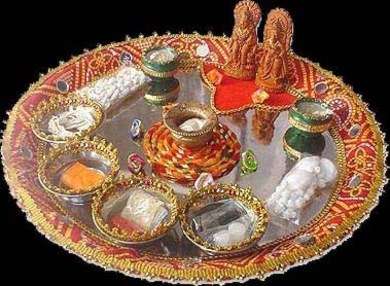 But the most important of all is the Karwa Chauth pooja thali decoration also as 'baya'. Karwa Chauth thali items include vermilion, sacred water, almonds, a diya (earthen lamp), and a few Indian sweets, in their respective katoris (bowls). The art of creating attractive thalis for pooja may also involve ritualistic decorations like rangoli and alpana. A small pitcher of Karaa with some water is placed in the center. While the story is being narrated, ladies circulate their decorated Baya thalis. After the pooja, this thali is given to the eldest member of the family who blesses the woman with prosperity and happiness.
Few ideas to help you with your own Karwa Chauth pooja thali decoration:
1. Thali decoration with sequins and Kundan work
1. Pick a new thali and clean it. Don't forget to dry it thoroughly.
2. Collect some colorful sequins, buttons, or crystal stones.
3. Stick these in artistic patterns around your thali.
4. After the ceremony, you can wash the thali with warm water and wipe it.
Buy stainless steel pooja thali with mirror or kundan work here!
2. Karwa Chauth pooja thali with mirror mosaic
1. Pick a steel plate or a ceramic/melamine plate of your choice.
2. Make a paste with Plaster of Paris (POP) and smear on the thali.
3. Stick mirror pieces over the POP in attractive patterns, keeping a space of nearly 1 mm between each piece of mirror.
4. Leave the thali to dry and the mirrors to adhere to the surface at least overnight.
Now your beautiful mirror mosaic thali is ready.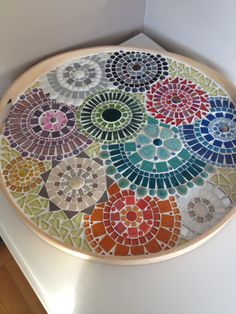 Buy 3-piece stone-studded pooja thali, with diya, agarbatti (incense sticks) stand here!
3. Thali decoration with laces or gota
1. Pick a plain steel thali or melamine plate from your kitchen cabinet.
2. Spread out beautiful myriad colored papers and stick on the thali.
3. Now decorate your pooja thali with golden laces and a shimmering miniature mirror at the corner of your thali.
4. Your special lace-decorated pooja thali is ready for use for the special occasion.
If you like, you can always choose from a wide variety of Karwa Chauth pooja thalis available on various reputed online shopping sites.
Buy velvet cloth decorated Karwa Chauth Pooja Thali here!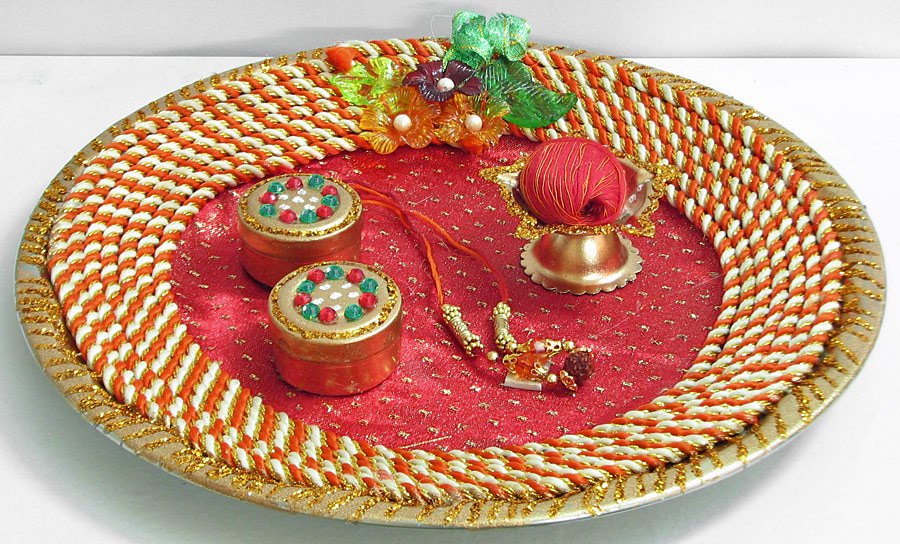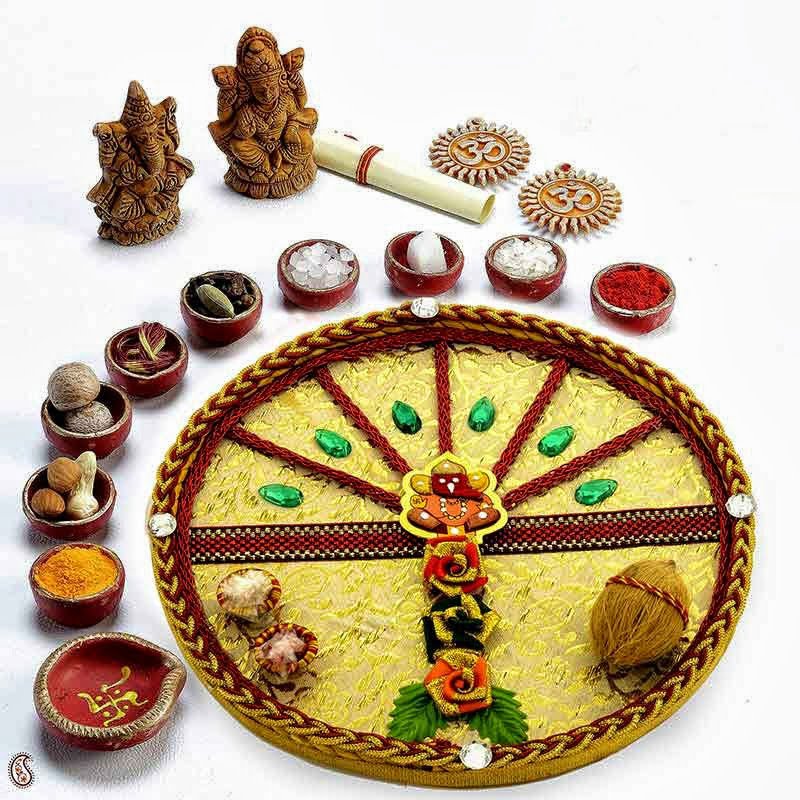 So, all you busy mums out there, don't panic if you can't create your own pooja thali. There are also options available to order a ready-made Karwa Chauth pooja thali!
Click on the 'image source' 09 onwards (mentioned towards the end of this post) to purchase the below-mentioned thalis online!
Happy Karwa Chauth, ladies!
Subscribe to Blog via Email
Image source: 01, 02, 03, 04, 05, 06, 07, 08,
Purchase online by clicking on these numbers: 09, 10, 11, 12, 13, 14, 15, 16, 17, 18, 19