If you have never been to Hong Kong, it's easy to visualize it as a wholly metropolitan city, but there is much more it offers. Best known for its towering of glass and steel, there is plenty of nature to enjoy there with your family.
7 Places to visit in Hong Kong with your family:
1. Visit the Victoria Peak
Victoria Peak, the highest point in Hong Kong island, is the most popular attraction in the fantastic city as it has different lookout points. There is the sky terrace in the peak tower where you have to pay entry fees, but if you have a combined ticket from the peak tram, you don't have to pay again. At the right of the peak tower, there is a free viewing platform in the peak galleria and the Lion's Pavilion.
During a clear day before sunset is the best time to visit the peak, to view the skyline at a blue harbor.
You can hail a taxi to the place and let the driver know you want to go to San Deng. You can also use the peak tram, which is a bit pricier than the bus but much quicker. Both the bus and tram get busy, so you should be prepared to stand if you are not lucky enough to get a vacant seat.
2. Visit the Tian Tan Buddha
The Tian Buddha is in Lantau Island, and its completion was in 1993 after twelve years of construction. It is a bronze statue that attracts pilgrims from all over Asia. Two hundred and sixty-eight steps lead up to the statue.
Across from Tian Buddha, there is the Pon Li Monastery that hosts many devout monks.
You can get a cab from Tung Chung station and tell the driver you want to go to Dai Fut. You can also use the yellow MTR (subway) from Hong Kong station in central to Tung Chan station; from there, you can go via a bus or a car.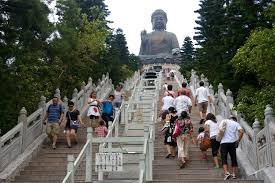 3. Enjoy Lantau Island scenery
There are beautiful and fascinating historical sceneries throughout Lantau island. In 1998, one of the most advanced international airports in the world, Hong Kong International Airport was opened on a human-made island on the northern part of the Lantau island. It made it easy for travelers as international flights such as Cathay Pacific land on this major airport bringing travelers from major cities such as Dubai.
You can pay a visit to the Hong Kong Island in Lantau if you are a fun lover who enjoys big entertainment parks.
Lantau Island hosts 47 fishing villages that are busy and prosperous. Pon Lin Monastery, which stands in Ngong Ping and beautiful beaches where you can experience serenity away from the town's buzz and bustle.
You can use a ferry from Central to the island.
4. Visit the Ocean Park
If you are going to visit the ocean park, just set a full day to visit this theme park. There are many thrills, more than you can handle for one day. In Ocean park, you can partake in activities such as a walk through old Hong Kong, looking at rare wildlife, roller coasters, and the Grand Aquarium.
In the aquarium, you can get to look at thousands of fishes from about 400 species. To put the icing on the cake, you can see different pandas, including giant pandas, and red pandas. In the Ocean park, you get a unique opportunity to see the endangered Chinese Giant Salamander.
The thrills of Ocean Park make it one of the most prominent tourist destinations, and you should never leave Hong Kong without getting to one of the best theme parks in the world.
5. Cruise on the Victoria harbor
Victoria Harbor is the largest in China and the third-largest in the world, located between Hong Kong Island and Kowloon. From the skyscrapers in Hong Kong, a myriad of lights twinkle at night, making it a significant night scene.
The famous sunset cruises on Aqua Luna or Duckling at Victoria Harbour never ages. Aqua Luna, named after the most renowned pirate in Hong Kong, is a hand-crafted traditional Chinese red-sail junk made of old age designs and materials. It lies between Tsim Sha Tsui Pier 4 and Central Queen's Pier.
Duckling is a well-restored fishing junk used for harbor cruises in Hong Kong waters. It transfers between Tsim Sha Tsui star ferry terminal and Hong Kong Island Central Pier 9.
Both of the cruise ships depart from Pier 9 in Central, while a single ticket includes one alcoholic drink.
Catch a bus heading to Exchange Square/IFC or hail a taxi and tell the driver to take you to Gau Ho Ma Tau.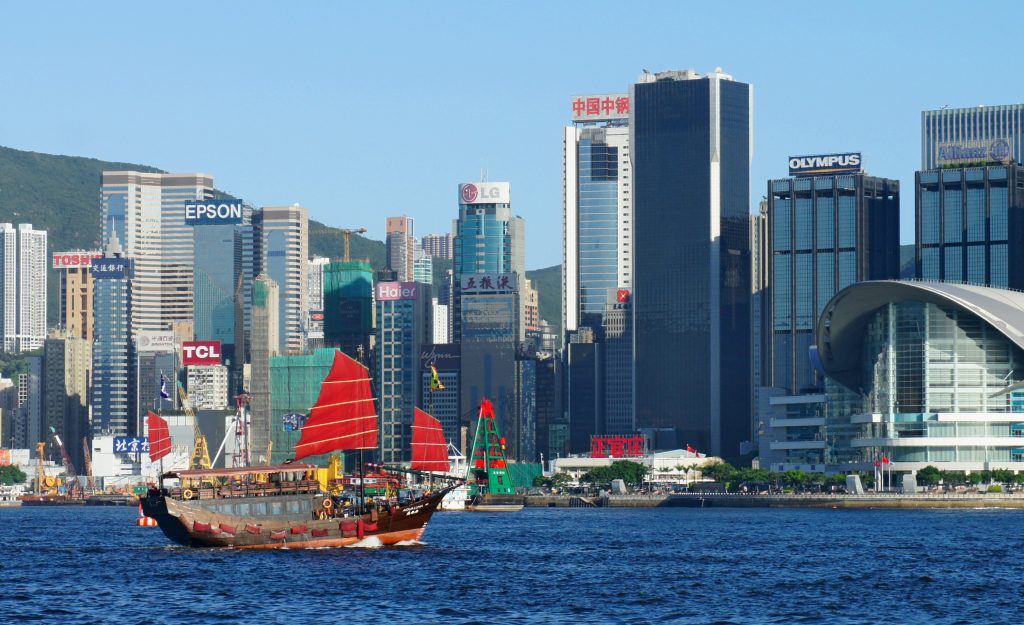 6. Stroll around Soho and Sheung Wan
While there is comfort in a fully furnished apartment in Hong Kong, take some time to wander around the streets in Soho and Sheung Wan on foot. There are exciting storefronts to check out, several amazing sights as well as discovering fantastic street art pieces.
There are other popular shopping neighborhoods, such as Temple Street Night Market, Causeway Bay, Tung Choi Street (ladies' market), and Fa Yuen Street (sneaker street).
Sham Shui Po is a suitable market for tech accessories and cheap fashion and toys, while the Temple Street Market is a touristy place where you can explore.
You can head there from Central by catching Mid Levels Escalator (the longest covered escalator in the world) or walk through Lyndhurst Terrace or Lan Kwai Fong (bar street).
7. Enjoy the city's view from Sky100
Sky100 is an indoor observation deck located on the 100th floor of the international commerce center in Kowloon. The skyline of Hong Kong is a magnificent view even at Sky Terrace 428, but if you like to indulge more, visit the famous Sky100.
It will offer you breathtaking views of the city and the Harbour. Time magazine named it one of the most beautiful places to see in Hong Kong.
The tickets are accessible at the gate in advance through Klook or any other online platform. Use MTR and alight at Kowloon Station to get there or catch a bus or a cab.