Are you looking to decorate your walls creatively? We have got you least expensive (frugal) ways to add vibe to your house walls? Don't just hang anything up! Here's an easy wall hanging paper craft that will strengthen the aura of your living space. You could also use a side of the cardboard box instead of a sturdy paper.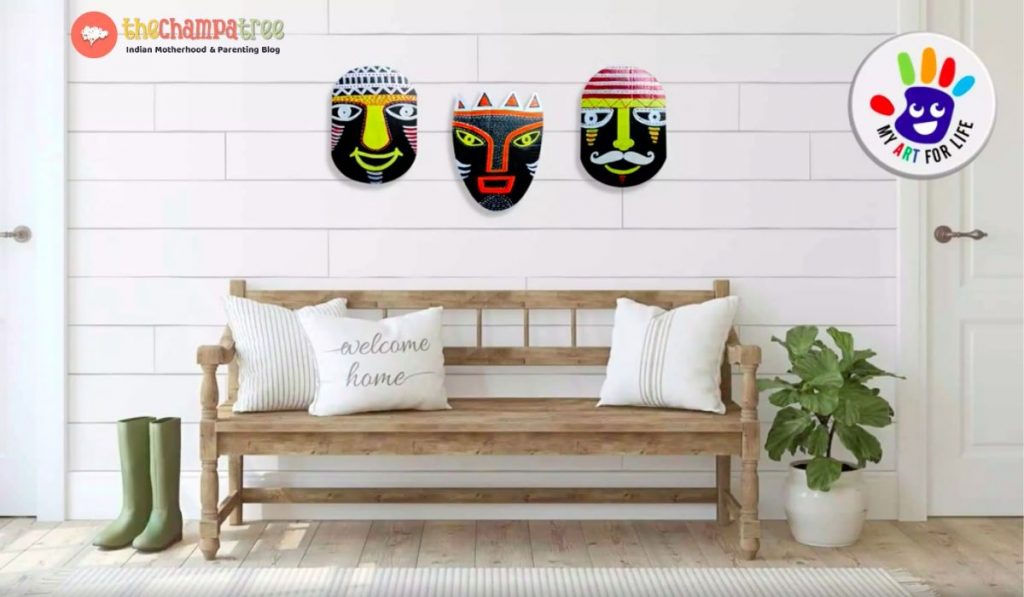 Wall hanging paper craft is not just for decoration purpose but it also keeps us motivated to reach a high destination. Which is why you'd see cute cartoon characters such as Minion quotes and jokes in kids' rooms. One often finds gods and goddesses masks or images as wall calendars. At offices, motivational quotes, or pictures of mountain peaks top the charts. There is a reason for this. The empty walls are filled with possibilities — and a few additions can radiate positivity. Fun wall hangings bring joy, romantic pictures, such as Eiffel Tower brings love, pictures of gods reaffirm our belief in the almighty, so on, and so forth.
With this in mind, today we bring to you a traditional wall hanging paper craft you can make with your little one.
My Art for Life is making a tribal masks. Would you like to make one too?
The relevance of tribal masks?
Masks portray the various moods that get embossed on our faces as reflections of the various emotions of mind that one goes through from time to time – A myriad of human expressions and feelings, be it affections, joy, happiness, love, anger, hate, fury, and sorrow.
In olden days, masks of gods and goddesses such as Siva (Shiva deity) and Shakti (three-eyed Durga deity) were considered extremely powerful. A very common use of these masks is found in the mask dances in which narrative plays are staged in which Goddess Durga (or any of her forms of Shakti) kills the evil demon. Therefore, such traditional or tribal masks are often hung at the door to keep the evil spirits at bay.
How to make this wall hanging paper craft?
A Pune based artist – Annada N Menon reignited the interest in India's tribal masks through her illustrations to remind people that traditional masks are not just living room decorations.