Karva Chauth is just a few days away! At the onset of this day's festivities, let's get inspired by some of the best and beautiful mehndi designs. Why mehndi? Well, it's because it is thought to be one of the most important and auspicious rituals. Mehndi application has today become a part of fashion. Married women love to sport these stylish, minimalist, elaborate, or embellished mehndi designs. So, which design are you opting for this Karva Chauth?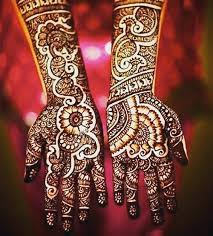 What happens on Karwa Chauth?
On this one-day festival celebrated by Hindu ladies (married women), where they observe fast from sunrise to moon-rise for the long life of their husbands, it is only fair that these women pamper themselves as a part of the celebrations. Therefore, they dress up and look nice. Bright makeup, gorgeous hairstyle, heavy Indian outfit (from their wedding lehenga to something more latest), women make a lot of effort to look amazing. As a part of this makeover and as per the traditions, they also decorate their hands with lovely and exquisite mehndi designs.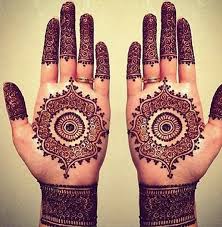 Special mehndi designs for moms – Why?
Moms are busy. They are often multi-tasking – right from packing their kids off to school to prepping up for meals, supervising house's support staff to taking charge of their professional work chores, it's to easy to apply elaborate mehndi designs just a few hours before breaking the fast. A mom has to plan very well and often a few days in advance.
Therefore, a design for her mehndi has to be effortless, simplistic, and trendy. We suggest traditional peacocks to paisleys to rich traditional motifs, an Indian mehndi design is all about intricate patterns. But, if a mom has been a fan of Arabic mehndi designs, then be ready to find the right artist who has an eye for details. Arabic mehndi looks gorgeous and effortless, but it isn't quite so. It is well-spaced out, neat, and exuberant. An Indo-Arabic mehndi design is a beautiful amalgamation of the Indian and an Arabic mehndi design, with thick outlines, all filled-in with aromatic henna paste. African or Moroccan mehndi design is all about geometrical lines, symmetry, and perfection. 
Team up any of these designs with an outstanding outfit and look stunning on Karva Chauth!
20 Beautiful Karva Chauth mehndi designs for moms:
Subscribe to Blog via Email
Image source: 1, 2, 3, 4, 5, 6, 7, 8, 9, 10, 11, 12, 13, 14, 15, 16, 17, 18, 19, 20