The meethi Eid went by in the COVID-19 lockdown. Another Eid is just a few days away. Eid ul Adha or Bakri-Eid is one of the most important festivals in the Islamic calendar. A festival celebrated to commemorate Prophet Ibrahim's willing sacrifice of his son for God and also that concludes the pilgrimage of Mecca, Muslims sacrifice a goat. Though meeting family and friends will not be possible this year, but to at least keep up with the festive mood, one can plan a small celebration at home with their families. Here's a round-up of the latest flower mehendi designs for Eid. These flower mehndi designs are so simple and easy that you can try them at home.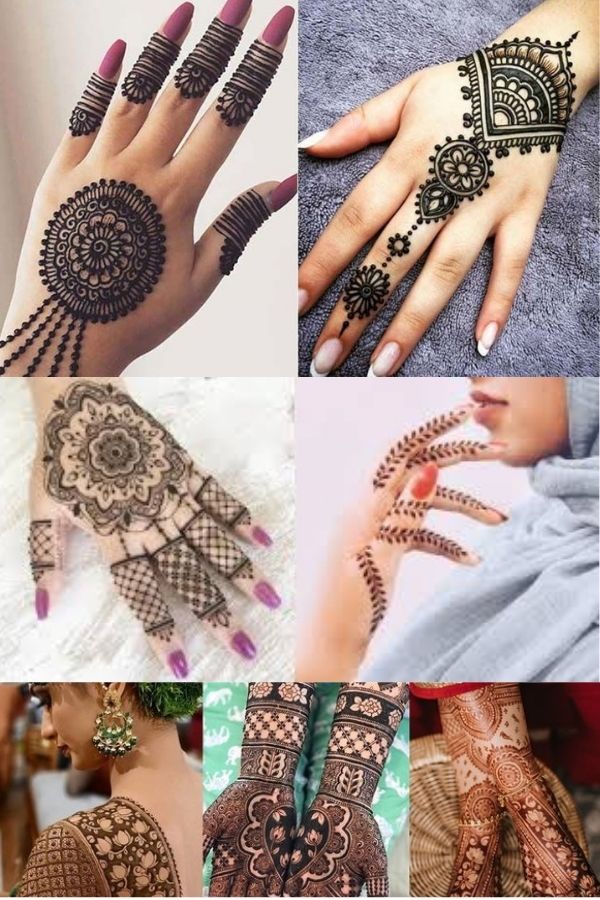 Check out 5 Mehendi designs for Eid styles and 60 plus flower mehndi design: 
1. Flower mehendi design
Flowers are symbols of fertility, joy, and happiness. Floral motifs are an integral part of Indian, Pakistani as well as Arabic mehendi designs. They are preferred by everyone and are quite a in demand. What makes these easy front hand mehndi designs beautiful is their curves and various shadings, as well as colors like in Arabic designs. They look attractive and unique for wedding functions or any ceremony.
Pakistani designs have flowers cover the fingers, top of the hands, and wrist. Small little oval dot-shaped circles are balanced with the flowers. The diagonal design runs to the tip of the fingers and depicts the depth of the design.
Many designs are a mix of Indian and Arabic, giving the floral pattern a unique look. Many designs with the use of color and glitter cover the space between petals, bringing alive the flowers on hand.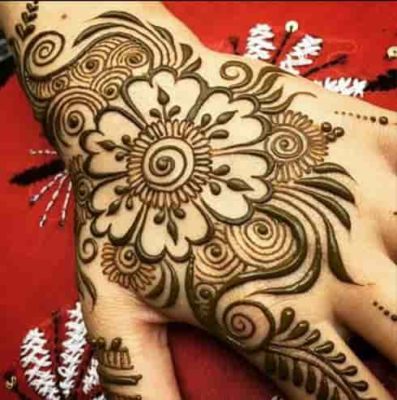 2. Mango mehendi design
These patterns are popular in the Gujarati and Rajasthani mehendi. Mango leaves are symbolic of the summers. A single mango leaf in the middle of the palm or two leaves placed side by side with a netted pattern of floral and geometric designs with shades that look extremely beautiful. Also, small flowers on the border, play of dots, or simple application of thin and thick lines are some ideas that can work for women across age groups.
15 Therapeutic mehendi designs to beat relieve stress and anxiety
3. Geometric mehndi design
Mainly found in the Arabic and Moroccan style of Mehendi, geometric patterns with the play of thin and thick lines look really smart and are almost like a modern art form of mehendi. Geometric designs are mainly preferred by those who do not like their palms to be fully covered in mehendi, but want just a small portion of their palms adorned. If you want a contemporary and trendy look then the geometric pattern is the one for you. Try these simple mehndi designs for front hands.
4. Shading mehndi design
Arabic designs use a lot of shading. Rose petals, mango leaves, and netted pattern with the play of shading makes these easy back hand mehndi design look very attractive. Most of the Arabic designs are on the palms, wrist, and fingers. Simple to make, anyone who loves mehendi can easily apply.
If the Eid preparations at home are not going to give you much time to sit with the mehendi in your palms, then just wait for an hour, and before washing off with water, apply mustard oil on the mehendi on your palms. This will help in retaining the color as well as increasing it.
Wishing everyone a Happy Eid from the TCT gang!
by Tasneem Dhinojwala
Image source: 41 to 63