The festive season brings with it, not only some of the finest or street-inspired mouth-watering delicacies, but also – heavy shopping and (virtual) parties and get-togethers. Also, a reason for women to dress up and look-feel good. No festival in India is complete without the saaj and shringar of a woman which on this day is all about mehndi designs for Karwa Chauth.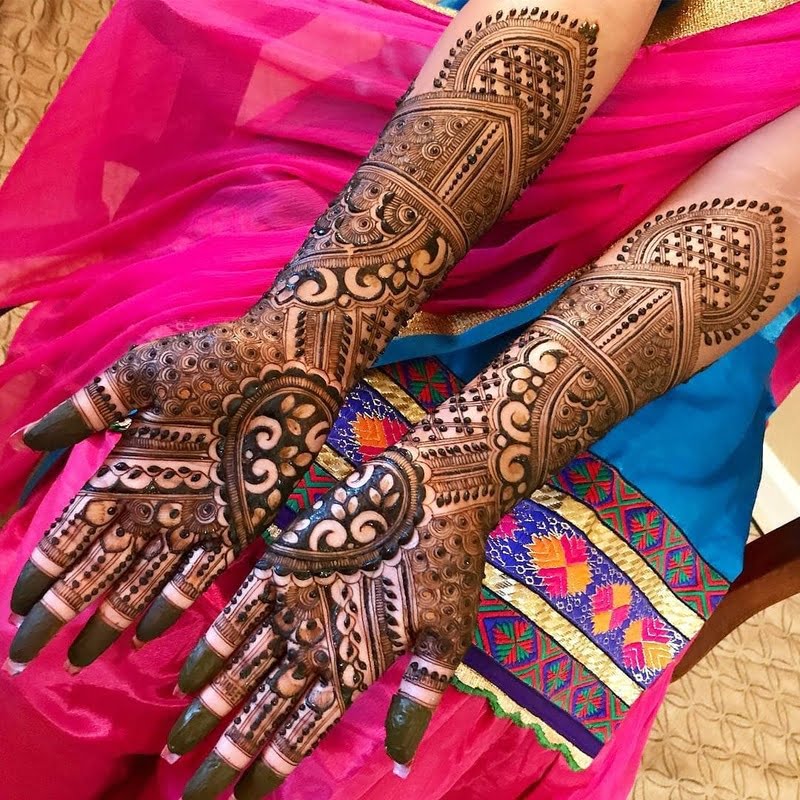 Mehndi is one of the exciting and essential rituals amongst several others for Karwa Chauth celebrations. A night before the fast of Karwa Chauth, there is a hectic run to the market for mehndi application or a lookout for a mehndiwala to apply it in the comforts of one's house.
With a mix of so many cultures and traditions, mehndi designs too have come a long way. From floral Indian motifs to the much loved Arabic designs, geometric patterns of Morocco to Pakistani style mehndi, one can choose whatever that suits one's style. Here is a small list of the options you have and a range of latest beautiful mehndi designs for you to try this Karwa Chauth.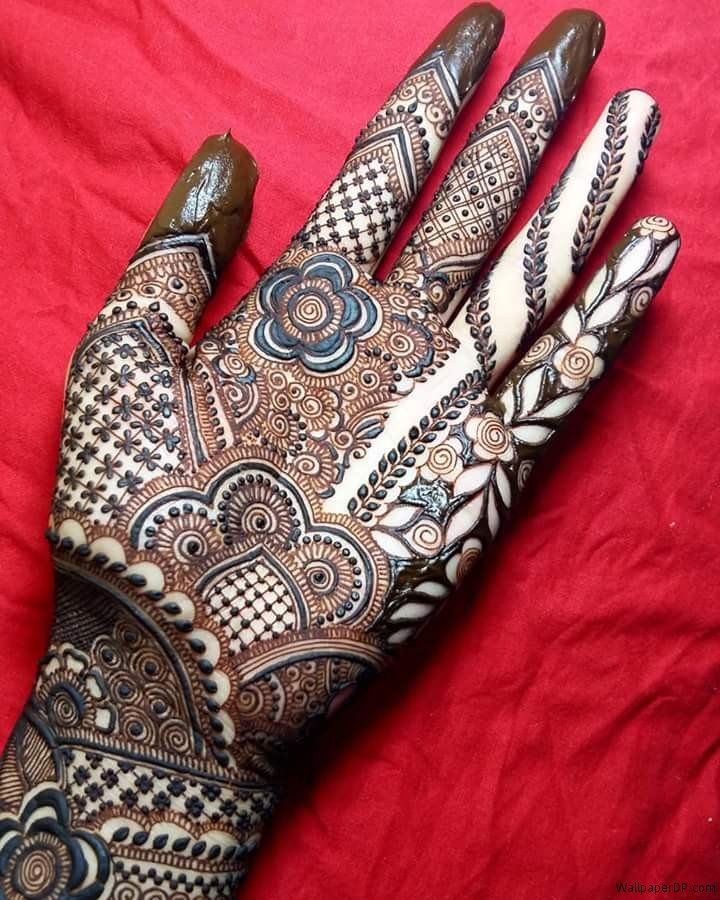 Mehndi designs for Karwa Chauth – 3 broad designs:
1. The Full-hand bridal designs
If you are a newly married bride or one of those who love to adorn their hands with mehndi on every occasion, then choose from the Punjabi, Gujarati, Rajasthani and Marwari style of mehndi. And you will never be disappointed. The intricate designs here include mango patterns, bride and groom, netted designs, peacocks, and floral motifs too.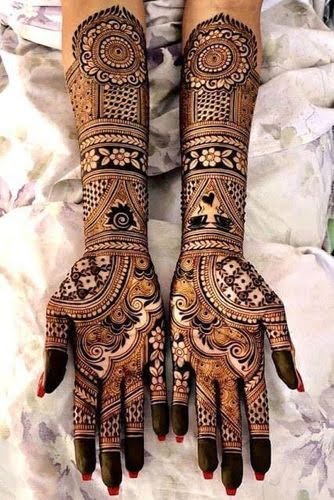 2. The delicate designs 
Arabian, Moroccon and Pakistani designs are not very heavy. If you do not like too much detail mehndi till your elbows, then opt for these. Arabic designs have a lot of shading and you can also fill it up with other glittery colors to match with your dress.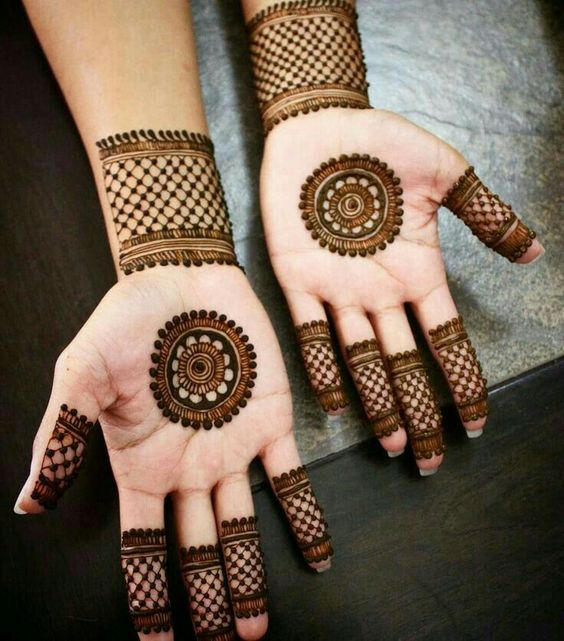 3. Fingers only – These mehndi designs for Karwa Chauth can be done at home
These are for moms who cannot handle both the kids and the mehndi together and for the ones who like to keep everything short and simple. Applying mehndi just on the fingers looks very smart and is kind of a style statement. Sometimes being minimalist is super cool too.
So whatever design you choose, here are some tips for getting the proper color from your mehndi:
1. Don't wash it off with water
2. Apply coconut oil or mustard oil on your palms and then slowly rub and take out the mehndi instead of washing it with water
3. If the color is light after removing the mehndi, then heat some cloves on a tawa (pan), and put your palms over the smoke of the heated cloves. 
4. The application of eucalyptus oil also helps.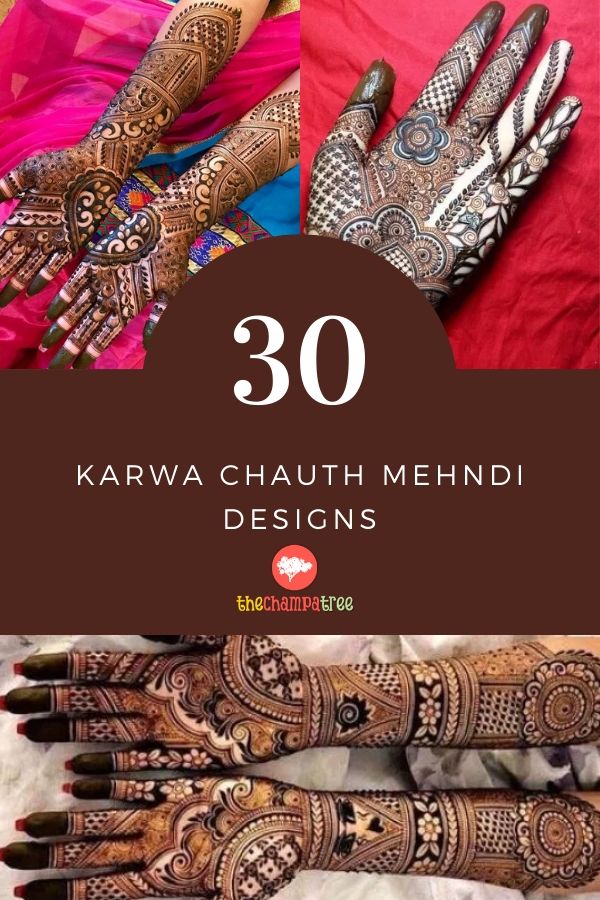 Irrespective of why and how the tradition of Karwa Chauth started, it is just one more reason for women to dress up and fun, so ladies have fun!
by Tasneem Dhinojwala
Image source: 01, 02, 03, 04, 05, 06, 07, 08, 09, 10, 11, 12, 13, 14, 15, 16, 17, 18, 19, 20, 21, 22, 23, 24, 25, 26, 27, 28, 29, 30