It is that time of the year again when we all are set to celebrate the festival of colors. Holi is one festival which is celebrated with great zeal and fervor across India. One of the best and creative activities to do with kids as well as utilize leftover Holi colors for something constructive. There are new color rangoli designs that can make use of Holi colors, and guess what? These also happen to be easy rangoli designs for beginners.
Holi is around the corner and the excitement has already begun. This festival of colors symbolizes the triumph of good over evil, it also marks the beginning of spring season and is celebrated for showing gratitude for a good harvest. I just love splashing colors on my loved ones and not to miss eating yummy Holi delicacies. Post the Holi celebrations, one thing which many of us worry about is what to do with leftover Holi colors. If you are also thinking about the same then you have come to the right place. Read on to find more.
Apart from your Holi party, you can use leftover Holi colors in a very creative way. Yes, you guessed it right, to make beautiful and new rangoli designs. Infact, making rangolis can be therapeutic and creative pursuits for both adults and kids alike. It is also a great way to keep your kids occupied during their session break.
We have shortlisted the top 10 color rangoli designs to make using Holi colors: 
1. Circular rangoli designs with dots
These colorful rangoli designs with dots will look really beautiful and is super easy to make. You would need a rangoli cone for this. You just need to finalize your base design and select which colors you will be using.
2. Radha Krishna rangoli
We all have heard tales of how Radha Krishna used to play Holi together. This design beautifully captures the equation they shared. You need to chalk out the faces in white and then fill in with different colors.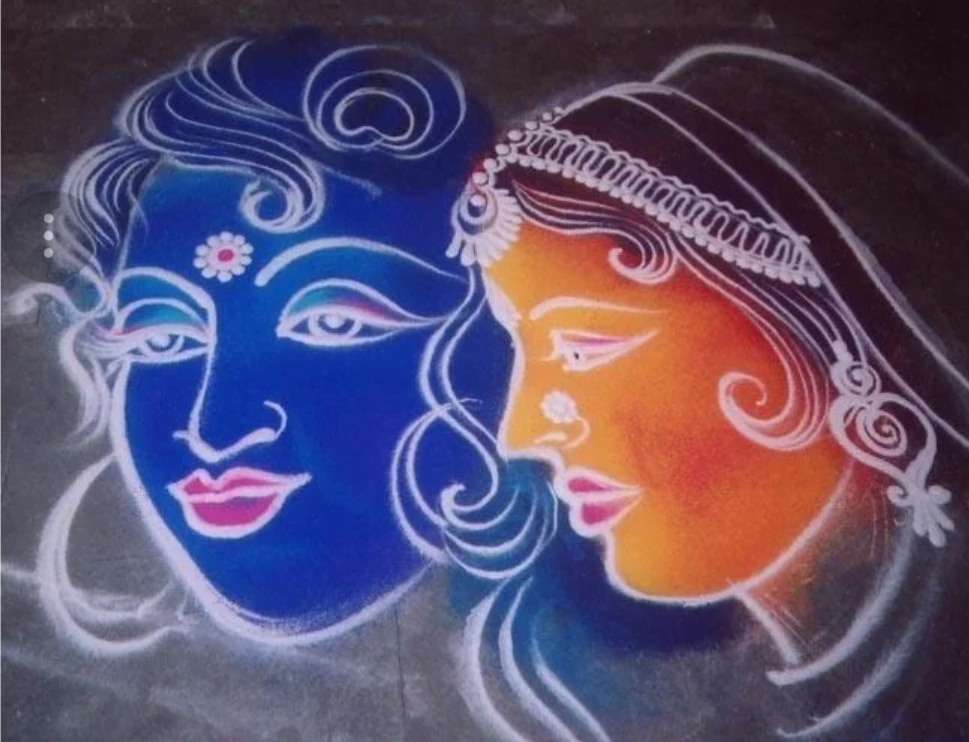 3. Big colorful rangoli
It is a big circular rangoli design which is a perfect color combination is all that you need to get this pretty rangoli design. The best thing about this design is that the base drawing is not that difficult. You just need to ensure that the alignment is not disrupted.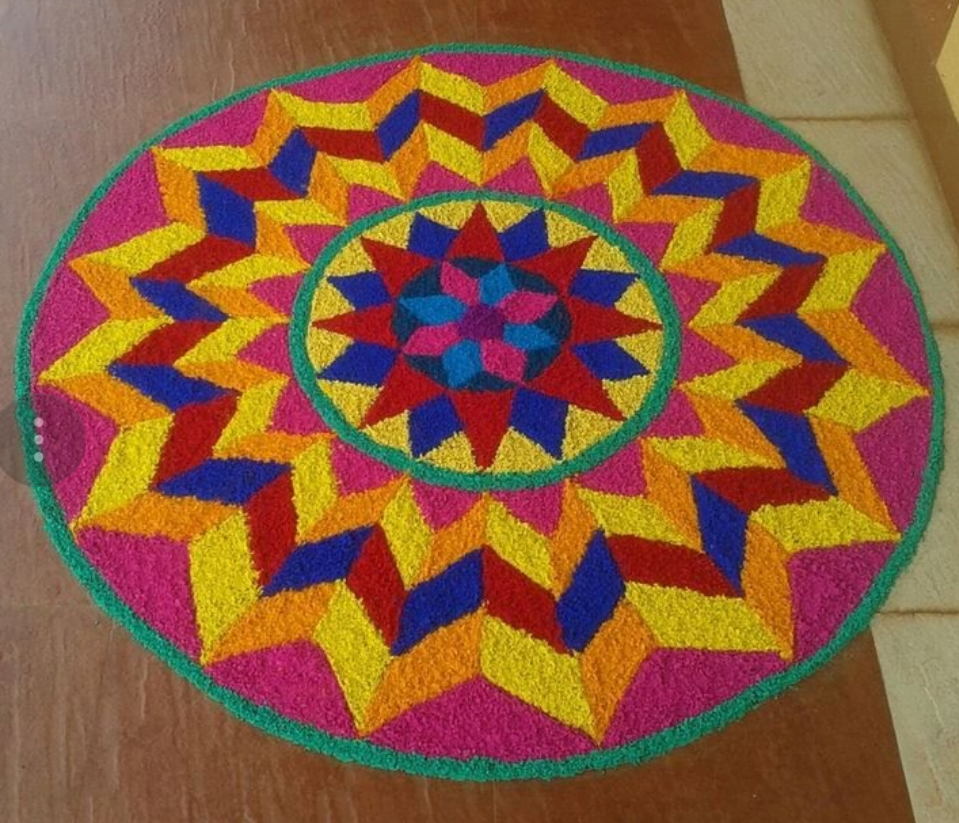 4. Multi-colored simple rangoli design
This is an easy circular rangoli design. You have to circle the colors in layers and then enhance them slightly. This design is perfect if you have a dull base.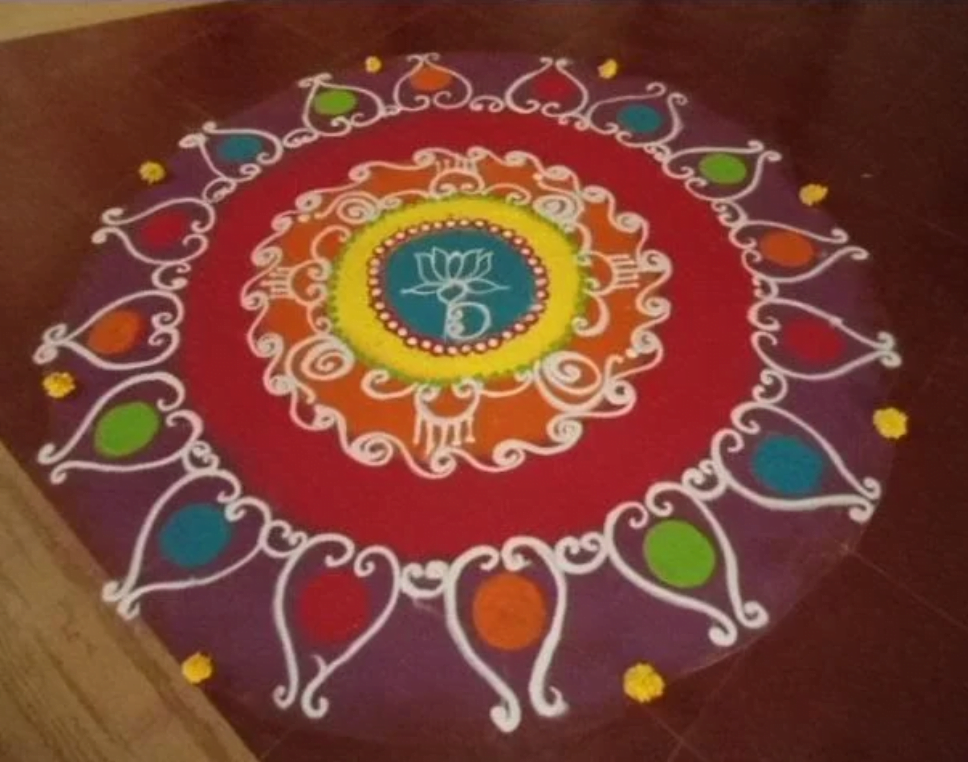 5. Kolam design rangoli pattern
This rangoli design will surely brighten up your home. You just need to make kolam design and regular rangoli patterns to make this masterpiece.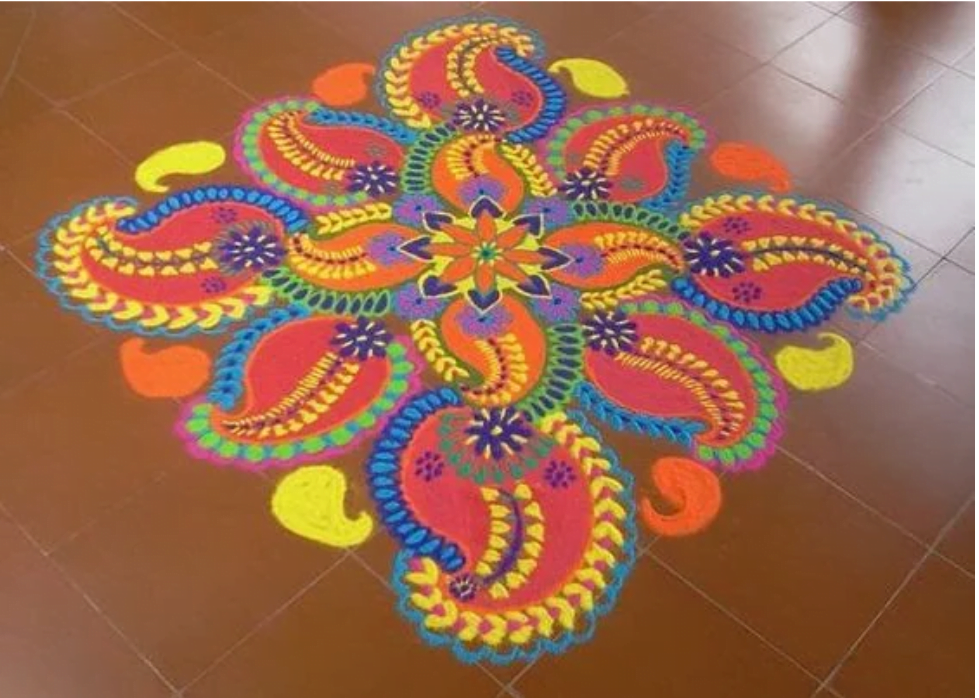 6. Perfect Circular rangoli design
You will have to chalk out circular sections and then fill in different Holi colors to get this lovely rangoli design.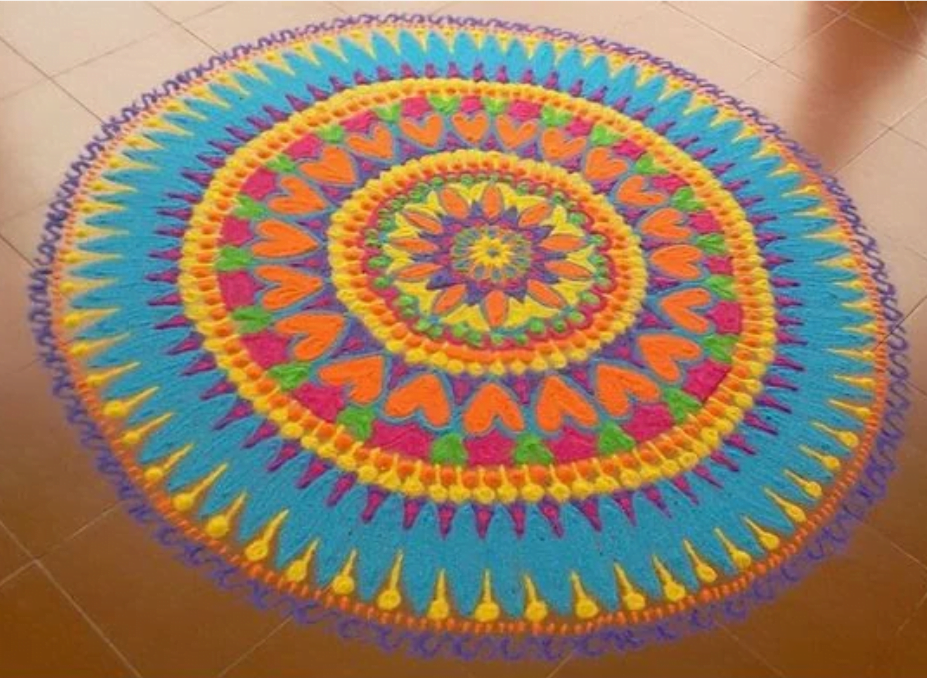 7. Peacock rangoli design
This pattern looks really beautiful and is also one of the most popular rangoli designs.
8. Intricate rangoli pattern
This one is undoubtedly one of the best rangoli designs. You can use this pattern in a smaller size. If you like intricate designs then this rangoli pattern is apt for you.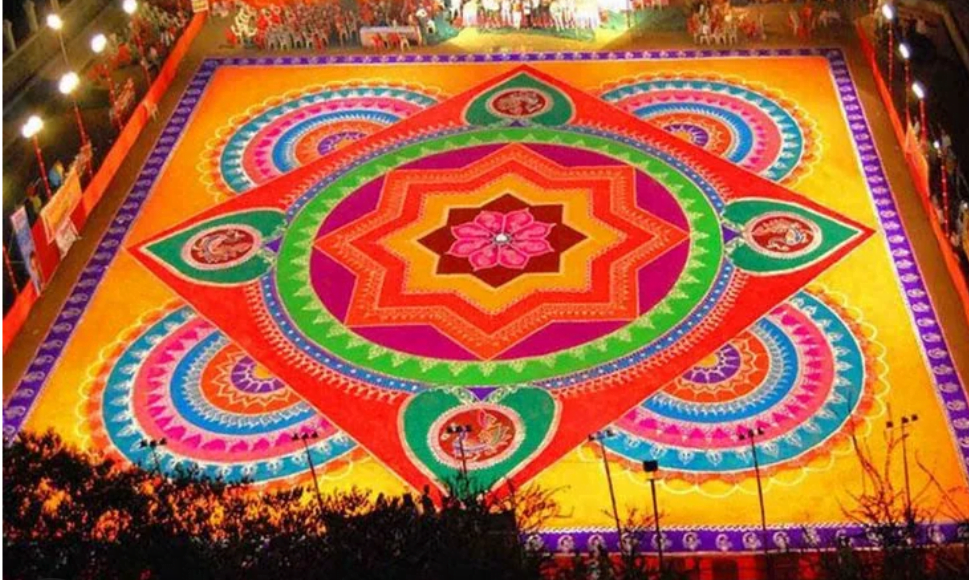 9. Rangoli design with different shapes
If you are looking for a rangoli design with different shapes then you will surely like this one.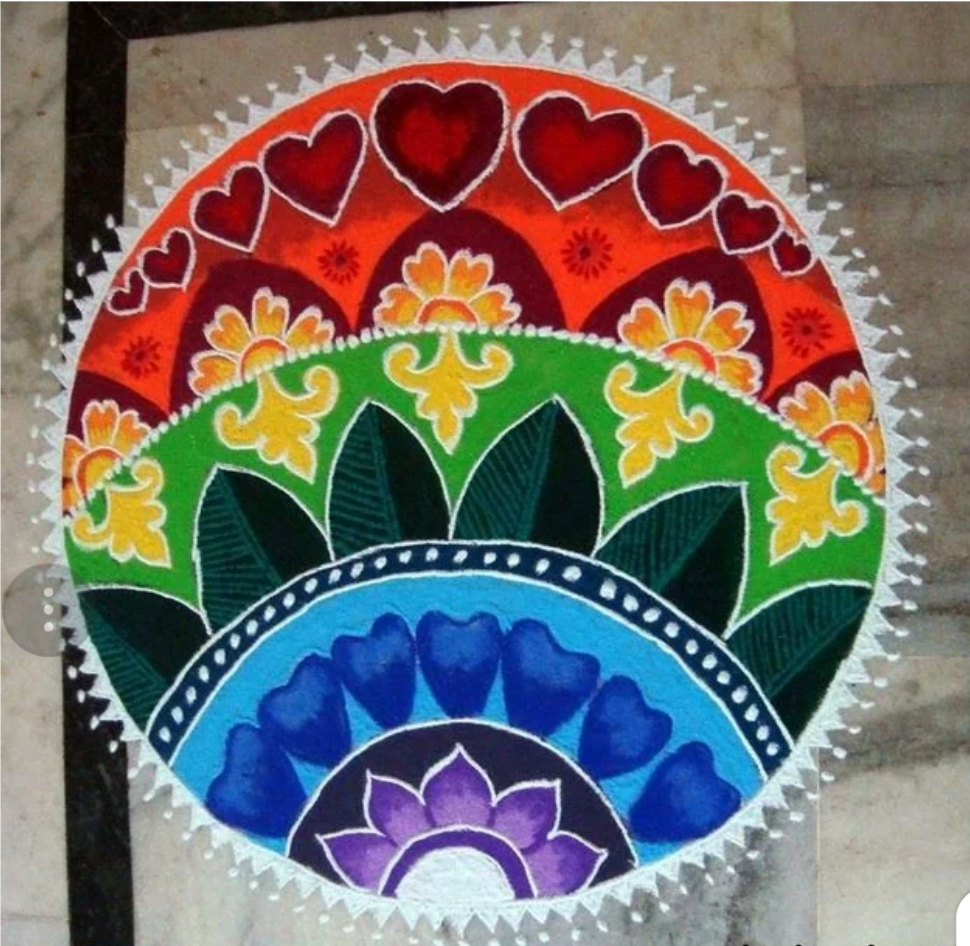 10. Easy rangoli pattern for beginners
This design is perfect for all those who are looking for simple patterns. You just have to chalk out a rectangular portion where you will have to blend in the Holi colors.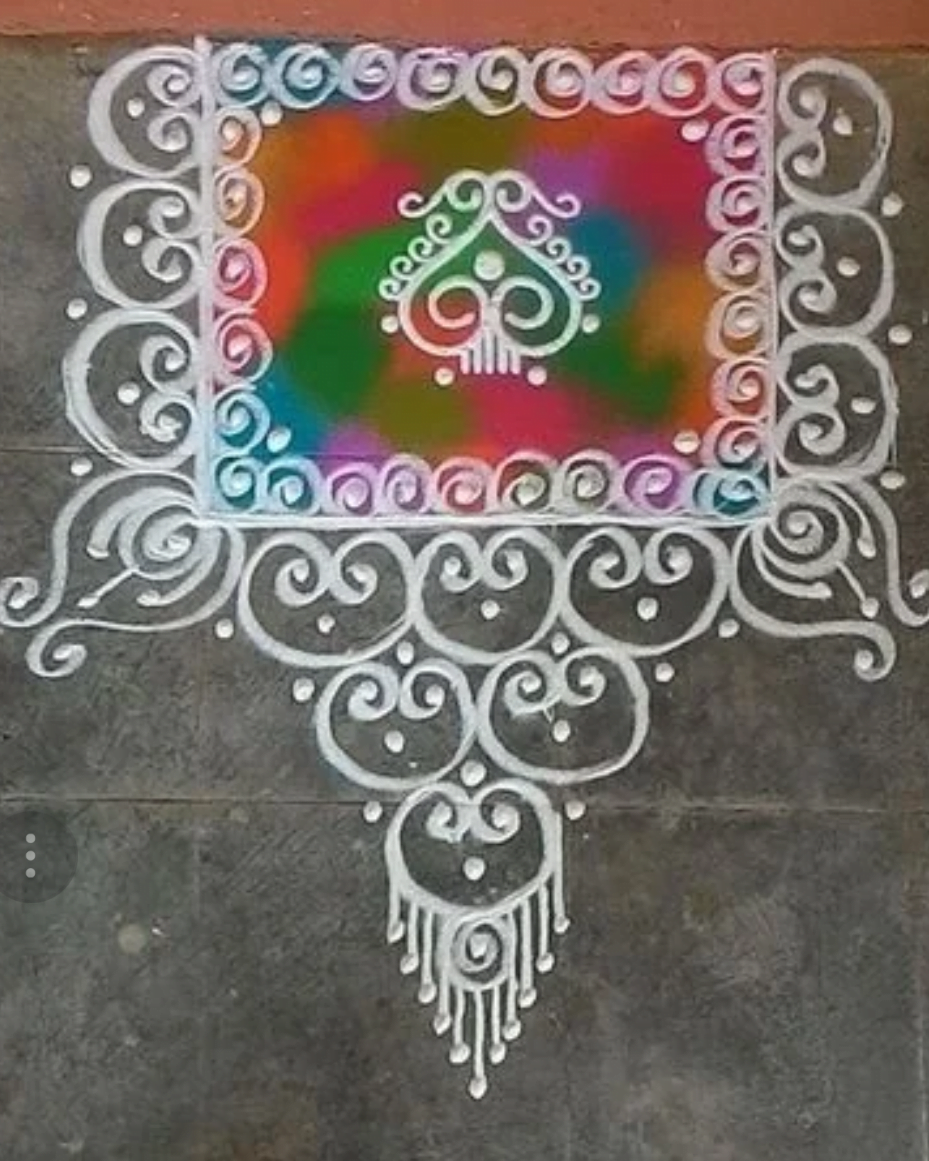 Go ahead make these beautiful new rangoli designs with your little ones.
by Urvashi Newar
Image source: 01 to 10