Grab the best and unique handpicked designs for your Karwa Chauth puja thali. For all the busy moms, this is your one-stop solution to make your Karwa Chauth thali colorful, vibrant, distinctive, and special from the previous years. Celebrate the Karwa Chauth with your personalized style statement.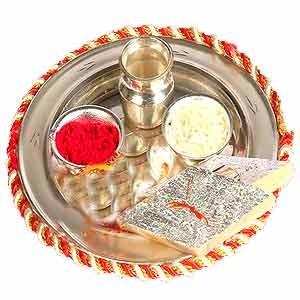 Karwa Chauth – One of the most awaited and celebrated festivals in India. An auspicious day that marks the incredible gesture of unconditional love and trust of a wife for a husband through a day-long fast. Having said that, we do appreciate the men folks who also show the same gesture in return for their wives. Check out some of the coolest mehndi designs for Karwa Chauth. 
Beyond the day-long fast, the women also focus on the decoration of the Karwa Chauth Puja Thali, usually referred to as Baya. A standard Karwa Chauth thali comprises of holy water, vermillion, dry fruits, an earthen lamp, and sweets as an indication of love. With just a few days left for this year's Karwa Chauth, we present to you some of the most unique and trending Karwa Chauth puja thali designs which you can decorate it all by yourself, without consuming not much of your time.
Karwa Chauth puja thali designs:
1. Sequins as decorating material
Use a brand new clean Thali and dry it downright without a drop of water in it. Use some of the shining, colorful crystals, buttons, or sequins and stick the same in an artistic and uniform pattern throughout the thali. This thali can be reused as you can remove all the embellishments. An easy way of decorating your thali. Buy now!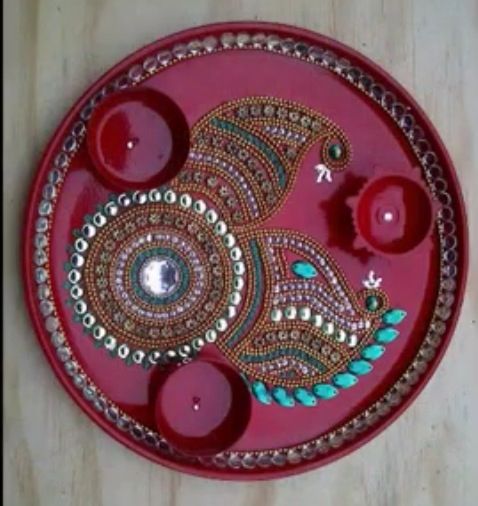 2. Lace and gota patti for decoration of thali
Did you know you can use the same lace and gota patti, which you use for your apparel designing to design your Karwa Chauth puja thali as well? Yes. A very modest and easy way of decorating your puja thali. You need your well-designed lace along with a spotless and dry steel plate. Stick the bright color paper on the thali and stick the lace or gota patti on the edges of the same. You can also use the dori hangings either throughout the plate or just on the four sides to make it more stylish. Buy now!
3. Mirror and glitters for decoration of thali
Pick a simple ceramic plate or a normal plate of your choice and apply the paste of plaster of Paris or an art and craft glue throughout the thali in a gentle fashion. Using the mirrors and glitters creates an attractive pattern and design using your imagination. Ensure you leave the thali to dry for a few hours before you use the same.  Buy  now!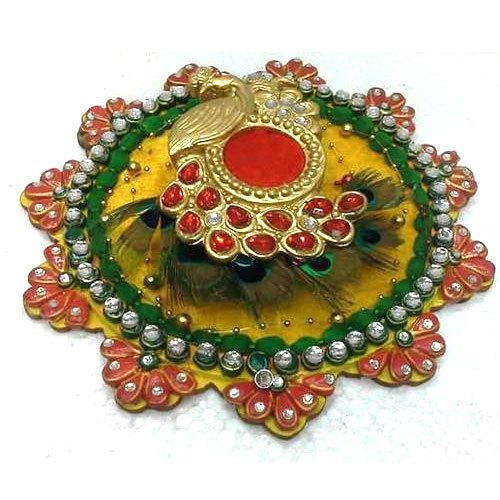 4. Seashells and diyas for decoration of thali
If you have a few seashells and diyas at home, you can use this idea. Pick a dry thali of your choice. Paint it with a bright color contradicting to the color of the seashells. Let the paint dry completely and then place the small diyas in the thali as per your wish. You can place the seashells in between the diyas and create an exquisite and beautiful puja thali for yourself. You can also add white mirrors to enhance the decoration. Buy now!
Check out these popular designs now!
Subscribe to Blog via Email
Image source: 01, 02, 03, 04, 05, 06, 07, 08, 09, 10, 11, 12, 13, 14, 15