Christmas is never complete without a delicious, scrumptious Christmas cake. There wouldn't be a single-family out there without the plum cake in the kitchen. We either bake it, buy it or gift it but we never skip it. This Christmas, I decided to bake it but alas! Wherever I looked, I could see rum cake recipes or recipes that looked complicated and messy. How to make a rich Christmas cake recipe kid-friendly?
What came to my rescue was a friend's recipe posted on one of India's leading kid's food brand's websites – Slurrp Farm. Why don't you ask your kids to join in making fun Christmas fruit cake?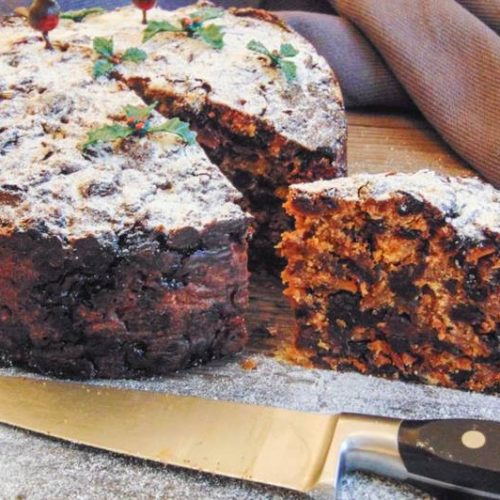 Christmas cake recipe
The Champa Tree has always got a few easy recipes for mums who love effortless baking whether it's kids birthday cake recipes, fruit cake recipes, or healthy cake recipes for family day. Today, we have a non-alcoholic Christmas cake recipe – The Christmas Plum Cake Recipe
Ingredients
1

cup

Slurrp Farm Vanilla Cake Mix

30

ml

Butter

50

ml

Yogurt

60

ml

Warm water

½

cup

Mixed dry fruits

½

cup

Cashew nuts (Chopped)

¼

cup

Black raisins

½

tsp

Cinnamon powder

¼

tsp

Clove powder

A pinch of Salt
Instructions
The recipe is divided into three parts: Caramelising the sugar, batter preparation, and baking. Caramelising the sugar is the first part. It is a key step as it gives the cake a special flavor that makes plum cakes stand out. Make sure you caramelize it at low heat, to avoid burning the sugar The second step is making the batter. Batter preparation was made easy and mess-free by the Slurrp Farm cake mix that I used. Use your favorite dry fruits to make them taste the way you like. You can use cherries, plum, dates, and even orange peels. The third step, baking, is a trial and error method. The duration of baking and temperature depends on the oven you use. The temperature mentioned in our post is suitable for microwave or conventional oven.
Unrefined sugar syrup
Open the entire sachet of unrefined sugar and caramelize it at low heat. Take it off the heat and pour 1/4 cup water so that the sugar hardens. Heat the mixture again so that the crystals dissolve completely. Set aside for cooling. Preheat the oven at 160 degree celcius
Cake batter
Mix sachet 2 of Slurrp Farm cake mix in yogurt, butter, and water. Blend everything with an electric beater or whisk thoroughly. Add caramelized unrefined sugar, dry fruits, and nuts along with the spices and salt.
Baking
Pour the batter into a greased cake pan and bake it in the preheated oven (at 160degree C) for 30 minutes. Make sure the cake is dark brown and a skewer/toothpick if inserted comes out with crumbs. Once the cake is baked properly, let it cool and dust with icing sugar.
It is a guarantee that your kids would love this Christmas cake recipe. Do try this easy plum cake recipe and share the pictures with us. Share your suggestions in the comments sections below.