by Vaishali Sudan Sharma updated on March 3, 2015
We thank Mommy Blogger behind The Joy of Momming
for nominating TCT for One Lovely Blog award
TSM The Joy of Momming for One Lovely Blog award. Thanks for the nomination. I would also like to add here that I love your blog a lot. Cupcake is a sweetheart and the tagline- "because mom is a verb" is super cool. It's so true!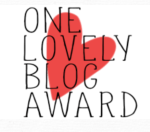 So, here we go..
Part I: Seven things about me 🙂
I love my family way way too much. Ace (husband) and Brat H (son) are the 2 most handsome men in my life (followed by my dad and brother who is going to a top-notch B-school this year).
I took SEVERAL pregnancy tests (via preg kits) just to make double/triple sure that I was PREGNANT. Those 2 pretty pink lines were the best thing I have seen in my life of 30 years. You know what did I gift my husband (Ace) on his 30th birthday? The news – that 'we are pregnant'.
I love to read Indian authors. My all-time favourite books are The God of Small Things by Arundhati Roy, The Death of Vishnu by Manil Suri and Calcutta Chromosome by Amitav Ghosh.
I am a big fan of jazz and at times I sing Louis Armstrong's- What a Wonderful World as a lullaby to my son.

My maternal grandfather has been my true mentor. His knowledge, wisdom, great reading and articulate writing skills, guess I have inherited it from him 😉 Unfortunately, I lost him to cancer in 2013. Soon after, I got pregnant. Somehow, I believe that he has come back to me in the form of my son.

I love Italian food and ravioli is my fav. One day. I shall make home-cooked, healthy and delicious ravioli for my family. Well, it's really a dream for now.
I have a Masters degree in International Public Relations from Cardiff University, Wales, UK. That's right! Besides, when I was living in London, I used to work with a voluntary organisation called Voice of Listeners and Viewers.
Part II: Here are my nominations-15 Amazing blogs. Do check them out if you haven't so far!