How do you warm bottles? Where does the baby sleep? Would they be able to sleep well? The key to being carefree when traveling with small children is being willing to go with the flow – but smart travel strategies help, too. Traveling with young children can be stressful — and that's especially the case if you plan on staying at a hotel and sharing a room with your baby or toddler. By planning ahead and packing right, you might do more than survive and actually enjoy your stay away from your family.
Check out these 7 hotel room hacks when traveling with a baby or a toddler:
1. Choose apartment hotels
If you want the convenience that comes with a centrally located hotel with daily cleaning, great facilities, and check-in staff, but you also want the extra space and a small kitchen that comes with an apartment then opt for an apartment hotel, which is basically a serviced apartment that allows you to book like a hotel. These are really popular in European cities but are also now on the rise in popular tourist destinations in India such as Goa, Nainital, and so on. Think of a situation where you can prepare meals and bottles and have a separate area to relax in the evening without disturbing the little one. Some apartment hotels also provide washing machines or laundry services. If not an apartment hotel, opt for a hotel room that has an en-suite kitchen or at least an in-room refrigerator. You can stock up on yogurts and fruit juice for a morning meal or those inexplicable "I'm hungry" moments that little ones do tend to be in very often.  A fridge can be a lifesaver for parents traveling with a toddler or a baby for keeping formula or breast milk chilled.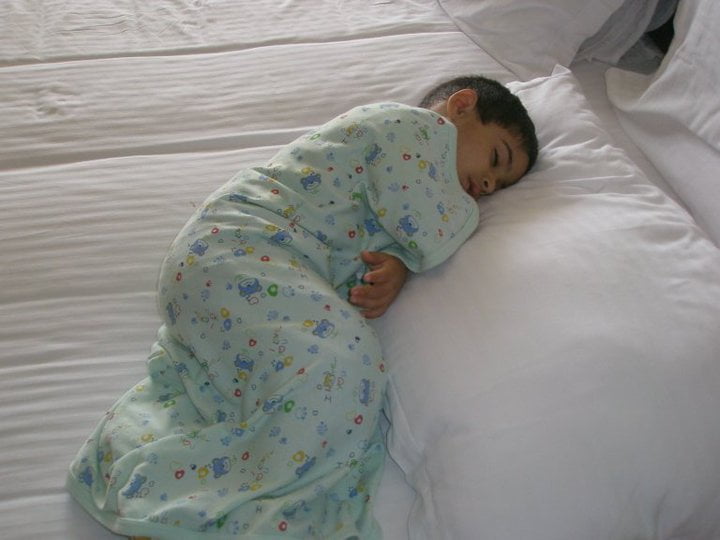 2. Get a room away from the busy areas – One of the best hotel room hacks
While you would think picking a room next to the stairs or lift will make for an easier life when you are on holiday, chances are you will regret this when the rowdy (and loud!) bar guests and that hen party you noticed downstairs earlier stumble out of the lift at 2 AM – and wake your sleeping baby in the process. To enhance ease of sleep, do use the "Do Not Disturb" sign, and also call housekeeping to request that your room be cleaned at a certain time that is not sleep time.
3. Solve sleeping issues
Forget my baby, even I find it difficult to sleep in a new place – at least the first night – despite being a compulsive traveler. Sometimes it will be necessary that you carry the baby's favorite sleep-time soft toy or his story books. (We traveled with Toby The Bear everywhere!). If your baby is used to sleeping in a dark room, you can try and blackout the light from the curtains by pegging an extra thick sheet over the curtains in the room.
4. Ask for extra bed linen
This might sound like an additional cost, but did you know that while traveling with your little ones, asking for an extra bed sheet is one of the best and free-of-cost hotel room hacks? Don't torture your child by constricting him in diapers all the time?. Call housekeeping when you check in the room and ask for extra towels, extra pillows or sheets, and so on.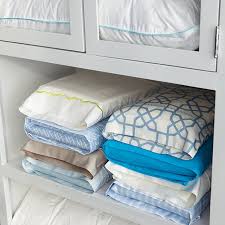 5. Carry an inflatable bathtub
Create a safe environment for your baby when you bathe them – keep germs away and also prevent accidents if they splash around in the large adult-size bathtub of the hotel room. Inflatable baby bathtubs arrive flat, taking up minimal room. Once filled with air, a bathtub is revealed that can hold enough water and a baby. They may not be durable – but you could use them only for travel times. Click here to purchase an inflatable bathtub online.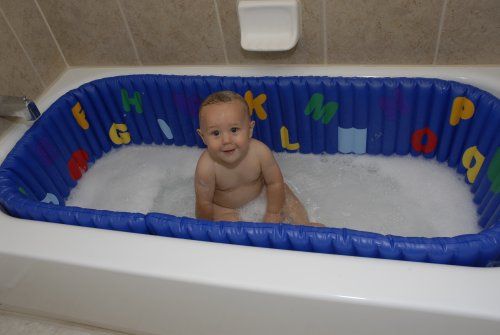 6. Ask for a high chair
If your baby is past the bottle age, you will want to ask the hotel for a high chair to make feeding times easier. Hotels that are used to hosting families will have some on hand. Be sure to sanitize it yourself to make sure it's clean. Click here to purchase a high chair online.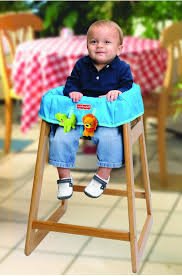 7. Pack in these extras
A hand sanitizer, disinfecting wipes, bottle-cleaning brush, dish-wash liquid, and baby's toiletries are things that you must pack. Toys such as building blocks – that offer the possibility of something new e every time – are a great idea to keep baby busy inside a hotel room.