Saree is the identity of an Indian woman because the beauty of the drape enhances her charm. There are humungous variations of sarees available these days. If you are a saree lover, you may have come across many varieties of sarees including the Banarasi sarees. Unlike other types, this model features special characteristics such as Mughal inspired designs, mina work, compact weaving, and pallu designs etc. Indians consider Banarasi sarees as classy designs for special occasions.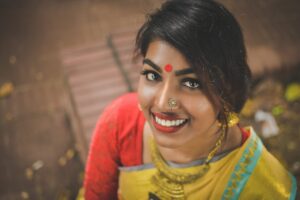 The Banarasi saree is not the typical saree that you wear to work every day. Designers make them with fine woven silk and beautify them with complex structures. They are among the sarees that never seem to lose their charm. Most ladies choose this design as a first option when looking for wedding sarees.
Banarasi sarees – Nurtured with the richness of brocade:
Banarasi sarees are famous for their silver brocade as well as extravagant weaving. Online stores like Stylecaret offer Banarasi sarees in different fabrics. You only need to choose a material that makes you feel comfortable and confident in your looks. TCT brings a list of different varieties of Banarasi saree to choose from and tells you how to style them. Enjoy!
1. Silk Banarasi sarees
Do you love silk? It is a versatile material that is classy and trendy. It is also a high-quality material that contains some string work on the fringe. Silk Banarasi sarees are popular among women who looks forward to look young. They can  be  the  best  choice  for  special  occaions due to their sheer elegance and grace .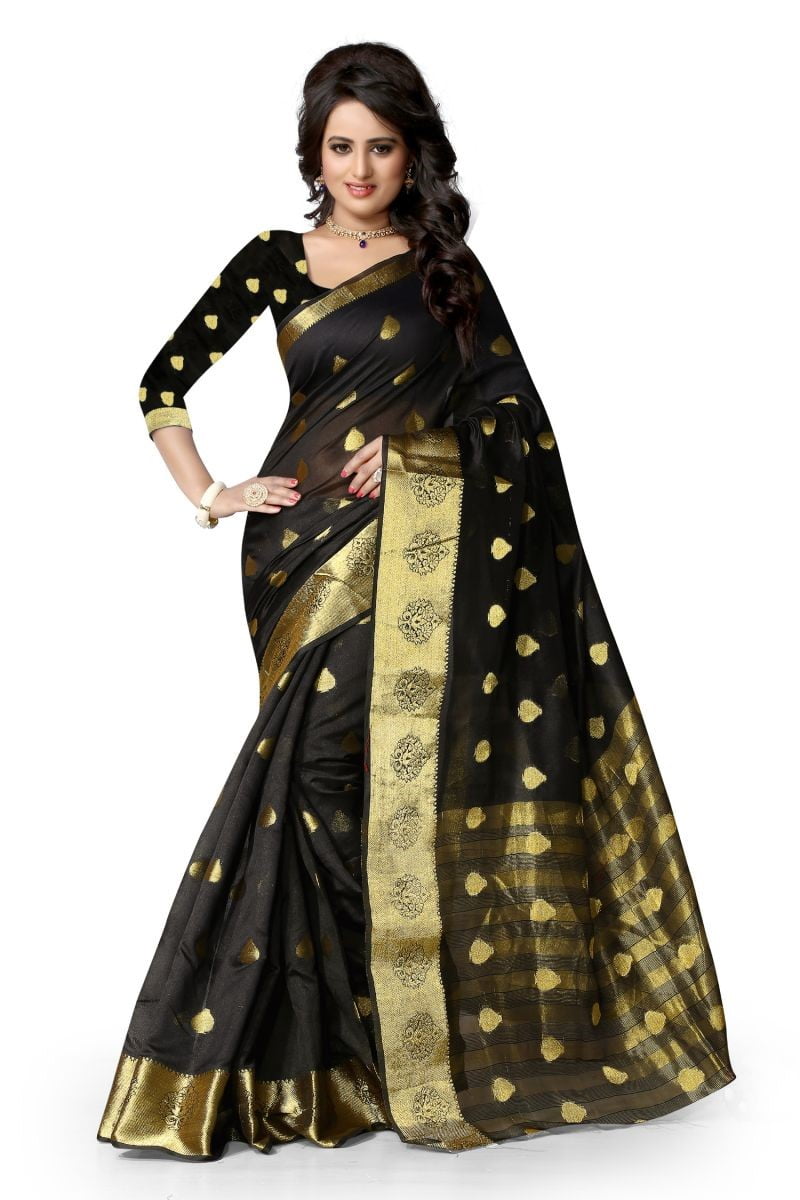 The vibrant colors make it easy for you to be the centre of attention. Add a few light accessories to complement your look. For instance, you can wear a few bangles to match the prints of your saree. 
2. Cotton Banarasi sarees
Your saree should be as comfortable as possible when you look forward to a busy day. A cotton Banarasi saree offers both comfort and style. Moreover, it is a breathable material which is ideal for a summer wedding  as the saree would not weigh down on you.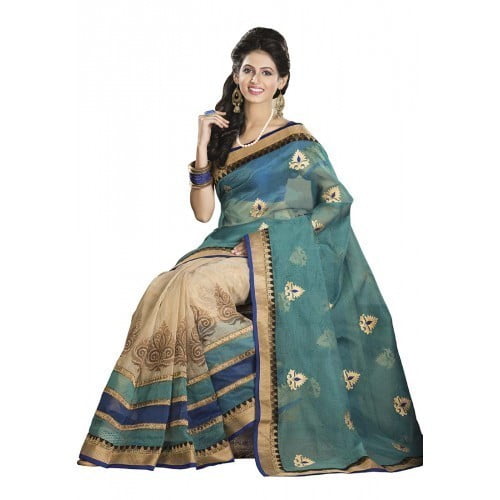 Cotton is one fabric that never goes out of fashion and lasts longer. If you are someone who wears saree rarely, then cotton Banarasi saree makes the cut for you.  This beige-colored cotton Banarasi sarees can add some elegance to your personality. Feel free to pair this with a white pearl necklace, pearl bangles, and some earrings to finish the look.
3. Chiffon Banarasi saree
Most celebrities lean towards the chiffon Banarasi sarees.  The gorgeous fabric comes with nice wraps to compliment the body. Chiffon banarasi saree can be the first choice to look cute and pretty with their green, orange and pink hues.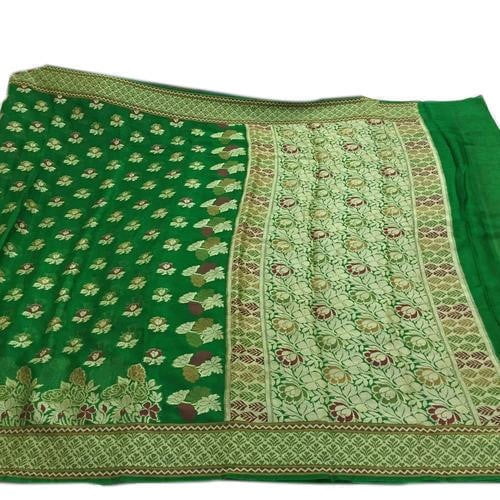 The saree is not only sophisticated but also light-weight which makes you comfortable wearing it for long hours. Top it up with your favorite neckpiece and a statement bangle. Pair it with a beautiful designer blouse that that matches the pallu to make it look rich yet elegant.
4. Georgette Banarasi saree
Are you tall and slender? If so, you need to add a georgette Banarasi saree to your collection. It is yet another light weight saree which gives you elegant looks and comfortable experience. This fabric is easy to manage since it does not require any special maintenance.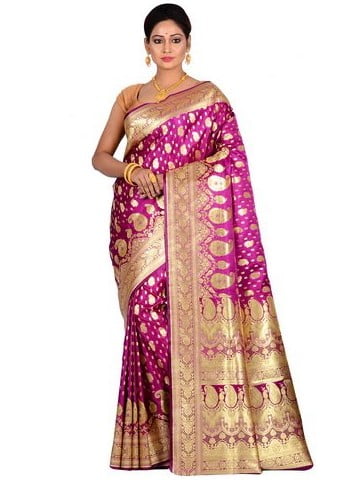 The saree features a thick border and antique prints on the pallu. Choose bangles that match your pallu and a statement earring to complete the look for you.
5. Net Banarasi saree
Are you confident with showing off your flat abs? In such case, pair a net Banarasi saree with a crop top and there you are. Flaunt your midrif with the transparent pallu to add an edgy twist.
Net is one of the few fabrics that always remain in fashion. This is why most ladies choose net Banarasi sarees. It is also light-weight and breathable making it suitable for hot summers. Net sarees are adorable that it is impossible not to choose them. Nonethelss, if you are uncomfortable with the transperancy, you can choose dark colors and drape the pallu in folds. Match it with a metallic colored blouse such as gold. Complete the look with some gold plated earrings and a nice watch.
6. Butta Banarasi saree
This is a traditional saree that is woven in silver and gold threads. You can get the original silk of the Butta Banarasi saree. Ladies choose to drape this style differently according to their body type and taste. Choose the blouse piece wisely so as to mellow down the richness of the design.
The Butta Banarasi saree comes in different motifs such as Latiffa, Ashraffi, Patti, Jhummar, Jhari, Baluchar, and Angoor. Irrespective of the motif you choose, try to match your saree with a golden necklace when attending a marriage ceremony.
7. Cut-work Banarasi saree
If you need a cheaper version of the Banarasi saree, this should be your ideal choice. The designers weave art silk threads with cotton ones to create an impressive, unique design with the cut work technique.
You can also get cut-work a saree in motifs such as marigold, creepers, leaves, and jasmine. Add some glamour to your saree by wearing a pair of stilettos and carrying a matching clutch bag. Accesorise with a statement ear stud and a golden watch. Feel free to wear this design at any social gathering.
8. Patola Banarasi saree
If you are someone who loves floral or animal designs, you can choose a Patola Banarasi saree. This features geometrical motifs that come in different designs. The vibrant colors of the saree also add some elegance to it.  You can wear patola saree with a diamond bracelet, a pearl necklace, and some flat sandals. It is a saree that leaves a lasting impression on people.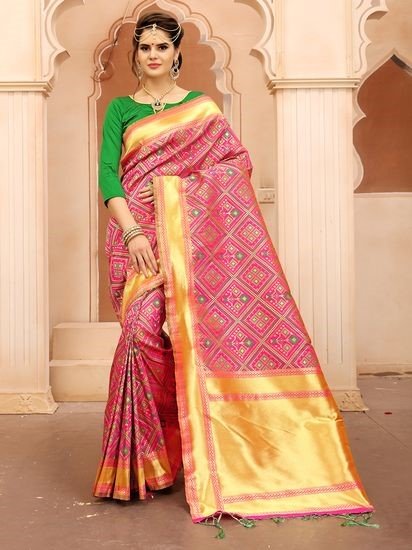 9. Zari Banarasi
The borders of this Banarasi saree come with big tassels that make it stand out. The silver and golden threads used to weave it give the fabric a neat structure. Designers twist the threads several times making the cloth strong and durable. You can even pass it down to the next generation for its durability is unbelievable. Pair your saree with some pumps, a lovely necklace, and some stone earrings.
Did you know that there were these many varietues of Banarai sarees? Which one is your favorite? Tell us in the comment box below.